Having difficulties getting RS+ base unit to get into FIX mode after input of XYZ coordinates in Manual and positioned over govt survey control marker. Doesn't depart SINGLE solution after several minute wait Vertical and horizontal accuracies are no less than 5 to 6 meters. We're preparing for a drone project over approx 30 acres which requires centimeter accuracy for cut and fill planning for grading project.
Settings: see System Report attached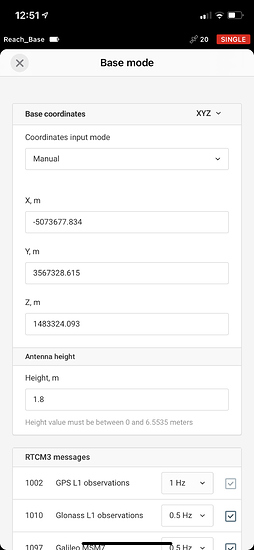 YIGO GG_NGS_Data.pdf (85.4 KB)
SystemReport_adawley_13Jan2021.zip (854.7 KB)
Before creating a new thread please refer to ReachView app docs.
In case you are creating a thread about an issue it is necessary to provide following information to get help:
Firmware image and ReachView version.
Detailed problem description. How does observed behavior differ from the expected one?
Your step by step actions.