Brand new units out of the box, this is my first experience with the RS+ I purchased 2 to give me a base and a rover.
first unit booted fine, demanded a firmware update. did not matter what I did, it would show as updating finish and then cycle off on the reboot. then it would recover on a restart and demand the upgrade all over again. endless cycle so I gave up and tried the firmware flash utility. that got the first unit to current firmware.
Second unit booted fine, demanded a firmware update. went though its normal cycle of asking for wifi, I gave it and it downloaded the current firmware. it cycled and I expected it to act like the first unit and REJECT the update. but thats not what it did. It went dead. all lights off. and NOTHING would get it to recover.
Now it gets weird… the RS+ shows up in my IOS utility as an M+ device. and it has an IP on my internal network. So I log into it via a web browser and it shows as an M+ device even though its a RS+ device and then about 5-7 minutes later the unit goes totally non responsive.
I now have a 800 dollar paper weight.
Enclosed is a screen shot I took from the Reach IOS utility to show I am not crazy.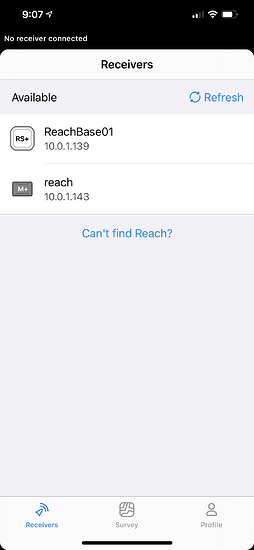 Since I am down a unit the other unit is essentially useless to me. Some one from support please advise.