Hi, we are using a fixed BASE and each morning I place our Reach ROVER into a calibration position. For the past 20 days it has always come up in the same spot. But this morning the ROVER position will not stay put and continues to randomly creep around. This renders the system unusable. Only after waiting for approx 3 hours has the ROVER position stabilized enough that we can use the system again.
Our installation requires that the BASE and ROVER remain powered up and linked (via LoRa) all the time, which has so far been working fine. Both BASE and ROVER are using v2.14.0.
Any idea as to what could cause this instability? And is there a quick way to recover from it (we really cannot afford to be down for 3 hours)?
Any suggestions would be appreciated.
Attached is a status map from the ROVER…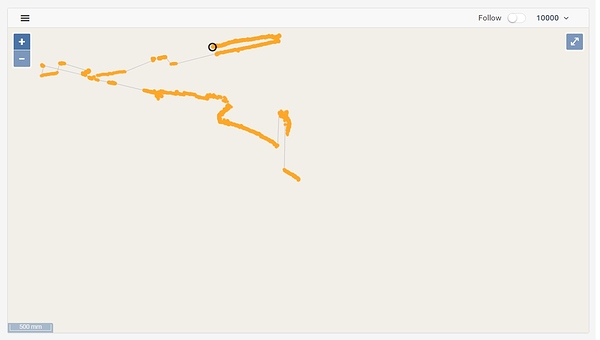 And from the BASE.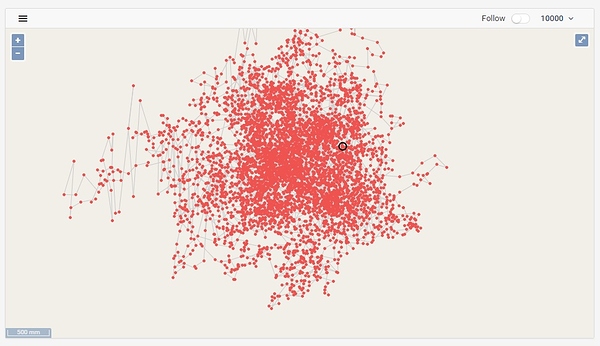 As well as the system reports.
ROVER report…
Simple system report

app version: 2.14.0-r0
'wifi_status, interface: wlan0':
- wifi_mode: wpa_supplicant
- ip: 10.1.1.10
  is_connected: true
  mac_address: fc:db:b3:8d:c5:8b
  ssid: TheKnightFamily
base mode:
  base coordinates:
    accumulation: '6.1'
    antenna offset:
      east: '0'
      north: '0'
      up: '1'
    coordinates:
    - '-38.315113'
    - '144.318144'
    - '43.116'
    format: llh
    mode: manual
  output:
    enabled: false
    format: rtcm3
    path: ntrips://:BETATEST@69.75.31.235:2101/AUGSS14#rtcm3
    type: ntrips
  rtcm3 messages:
    '1002':
      enabled: true
      frequency: '1'
    '1006':
      enabled: true
      frequency: '0.1'
    '1008':
      enabled: true
      frequency: '1'
    '1010':
      enabled: true
      frequency: '1'
    '1019':
      enabled: true
      frequency: '1'
    '1020':
      enabled: true
      frequency: '1'
    '1097':
      enabled: true
      frequency: '1'
    '1107':
      enabled: true
      frequency: '1'
    '1117':
      enabled: false
      frequency: '1'
    '1127':
      enabled: false
      frequency: '1'
    gps:
      enabled: false
      frequency: '1'
    qzss:
      enabled: false
      frequency: '1'
bluetooth:
  discoverable: false
  enabled: true
  pin: '***'
correction input:
  input2:
    enabled: true
    format: rtcm3
    path: lora
    send position to base: 'off'
    type: lora
  input3:
    enabled: false
    format: rtcm3
    path: 10.1.1.248:9028
    type: tcpcli
logging:
  base:
    format: RTCM3
    started: false
    version: null
  correction:
    format: RTCM3
    started: false
    version: null
  interval: 24
  overwrite: true
  raw:
    format: UBX
    started: false
    version: null
  solution:
    format: NMEA
    started: false
    version: null
lora:
  air rate: '18.23'
  frequency: 919000
  output power: '20'
position output:
  output1:
    enabled: true
    format: nmea
    path: ttyMFD2:9600:8:n:1:off
    type: serial
  output2:
    enabled: false
    format: nmea
    path: :2013
    type: tcpsvr
  output3:
    enabled: true
    format: llh
    path: :2014
    type: tcpsvr
  output4:
    enabled: true
    format: llh
    path: :2015
    type: tcpsvr
rtk settings:
  elevation mask angle: '12'
  glonass ar mode: 'on'
  gps ar mode: fix-and-hold
  max horizontal acceleration: '1'
  max vertical acceleration: '1'
  positioning mode: kinematic
  positioning systems:
    compass: false
    galileo: true
    glonass: true
    gps: true
    qzs: true
    qzss: true
    sbas: true
  snr mask: '34'
  update rate: '5'

BASE report…
Simple system report

app version: 2.14.0-r0
'wifi_status, interface: wlan0':
- wifi_mode: wpa_supplicant
- ip: 10.1.1.11
  is_connected: true
  mac_address: fc:db:b3:9a:d9:95
  ssid: TheKnightFamily
base mode:
  base coordinates:
    accumulation: '30'
    antenna offset:
      east: '0'
      north: '0'
      up: '0'
    coordinates:
    - '-38.3131540332'
    - '144.2932981507'
    - '69.516'
    format: llh
    mode: manual
  output:
    enabled: true
    format: rtcm3
    path: lora
    type: lora
  rtcm3 messages:
    '1002':
      enabled: true
      frequency: '1'
    '1006':
      enabled: true
      frequency: '0.1'
    '1008':
      enabled: false
      frequency: '1'
    '1010':
      enabled: true
      frequency: '1'
    '1019':
      enabled: false
      frequency: '1'
    '1020':
      enabled: true
      frequency: '1'
    '1097':
      enabled: true
      frequency: '1'
    '1107':
      enabled: true
      frequency: '1'
    '1117':
      enabled: false
      frequency: '1'
    '1127':
      enabled: false
      frequency: '1'
    gps:
      enabled: false
      frequency: '1'
    qzss:
      enabled: false
      frequency: '1'
bluetooth:
  discoverable: false
  enabled: false
  pin: '***'
correction input:
  input2:
    enabled: false
    format: rtcm3
    path: lora
    send position to base: 'off'
    type: lora
  input3:
    enabled: false
    format: rtcm3
    path: :9028
    type: tcpsvr
logging:
  base:
    format: RTCM3
    started: false
    version: null
  correction:
    format: RTCM3
    started: false
    version: null
  interval: 24
  overwrite: true
  raw:
    format: UBX
    started: false
    version: null
  solution:
    format: NMEA
    started: false
    version: null
lora:
  air rate: '18.23'
  frequency: 919000
  output power: '20'
position output:
  output1:
    enabled: false
    format: nmea
    path: bluetooth
    type: bluetooth
  output2:
    enabled: false
    format: nmea
    path: :2013
    type: tcpsvr
  output3:
    enabled: true
    format: llh
    path: :2014
    type: tcpsvr
  output4:
    enabled: true
    format: llh
    path: :2015
    type: tcpsvr
rtk settings:
  elevation mask angle: '10'
  glonass ar mode: 'on'
  gps ar mode: fix-and-hold
  max horizontal acceleration: '1'
  max vertical acceleration: '1'
  positioning mode: kinematic
  positioning systems:
    compass: false
    galileo: true
    glonass: true
    gps: true
    qzs: true
    qzss: true
    sbas: true
  snr mask: '30'
  update rate: '5'