Image and ArduPilot version: emlid-raspbian-20170323.img with ardupilot-navio2-copter-3.4.6-1.0 quad (15) running on a Raspberry Pi 3.

Detailed problem description. How does observed behavior differ from the expected one?
When I move the pitch stick forward or up the quad moves backwards when I would expect it to move forwards. When I move the pitch stick backward or down the quad moves forwards when I would expect it to move backwards.
Roll and yaw are working as expected.
Graphing the RC Channel Raw Input and the Servo Output from the telemetry log while the quad is sitting on my desk with props removed shows this quite clearly: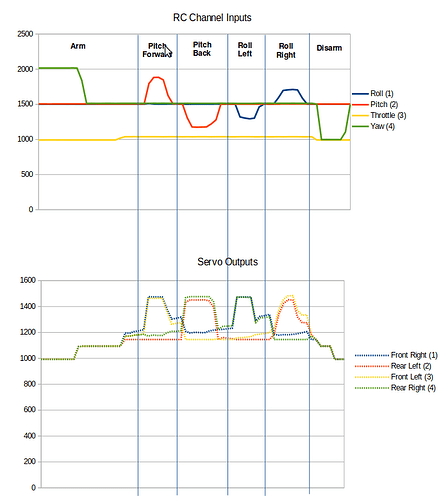 When pitching forward, outputs for the Front Right (output 1) and Front Left (3) go high making the quad move backwards.
When pitching back, outputs for the Rear Left (2) and Rear Right (4) go high making the quad move forwards.
The Pi/Navio2 is mounted in the standard orientation on top of the frame with the USB ports pointing forward, and the status LED and GPS connector pointing toward the sky.
AHRS_orientation is set to zero (0).
I've also calibrated the RC channel inputs, this appears to be confirmed by the fact that when I pitch forward, the pitch channel (2) goes up and when I pitch back it goes down.
Gyro/Accelerometers appear to be functioning as expected going by the flight display.
When flying in Stabalize and Loiter modes the quad is quite stable and flies as expected apart from the pitch being reversed. I did try setting up a flight plan but as soon as I switched to Auto mode the quad started heading straight up, I'm guessing that this was because Ardupilot was trying to pitch forward toward the first waypoint but because of the reversed pitch it actually starts moving backwards at but to try to correct this and keep the quad flat it speeds up the rear motors, nett effect being to go straight up!
I've double checked all my connections and they seem to be good. Any suggestions would be greatly appreciated.
Many Thanks,
Dean