Hi!
After finally getting both of my reach modules alive, I was able to configure them as a base station and a rover and send corrections through Wi-Fi in order to achieve centimeter level accuracy.
I would like to send the RTK connections through a pair of 3DR 915 MHz radios. So, I configured the base station with the USB OTG module and starting sending corrections over the USB on the GO serial interface at 57600 bps. On the rover side, I configured to receive corrections from serial interface at 57600 bps. The connection is established and the rover module starts receiving corrections, but after aproximately 20 seconds, the rover stops receiving corrections and RTK precision is lost. If I turn the corrections off and on in the rover side, I start getting corrections again but after some time, it stops. I attach some pictures of my hardware setup.
This is my base station setup
And this is my rover setup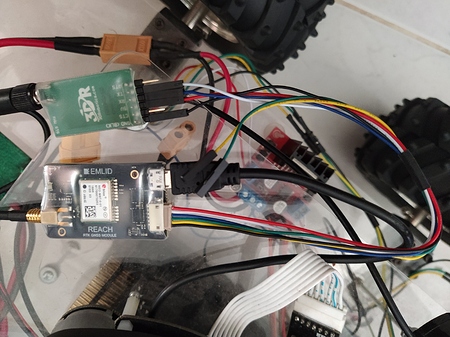 I tested the setup using a pair of 5 V, 2 A phone chargers. I do not have this problem while sending the corrections over Wi-Fi.
Any help would be appreciated!