I want to stream the position of an Emlid Reach RS2 to a Windows 10 PC using Reach's built in functionality "Position Streaming" on Channel "TCP server".
The Emlid Reach RS2 device has Firmware Version 31 installed.
Access to the device works well both via Emild Flow on iOS (App version 8.10) as well as via html-UI from web browser on a Windows 10 PC.
All devices are on the same network.
I know that that the device is streaming properly, as I can connect to it from the QGIS software.
I need to stream the position using C# / .NET or Python code to a simple text output i.e. System.Console or a Windows.Form.
How to set up and configure the TCP Client so that it receives the data stream from the RS2 device?
Can someone please point me to an example, a step-by-step instruction or a code snippet for a TCP client on a proof-of concept level?
Links to the documentation, reference, tutorials:
[Settings overview | Reach RS2/RS2+]
[Using QGIS as survey tool | Reach RS2/RS2+]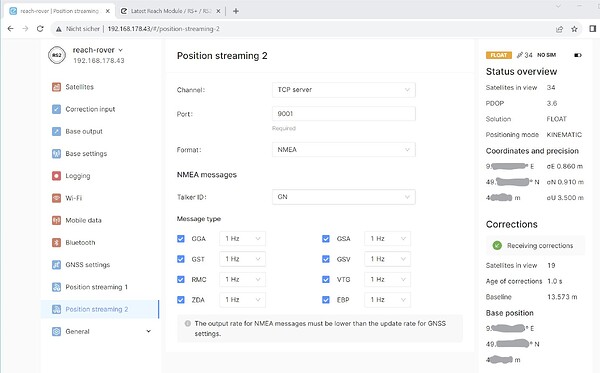 Thankful for any support.