Running 2 Reach RS+ units for GCP targets (v2.11.3), setup as described in the tutorial video (link below, base is set to averaged single):
https://www.youtube.com/watch?v=4GfUDoDwEAE&t=358s
Having a hard time getting FIX position on the rover.
Have set auto-save to occur once fix is found for 5 seconds.
We are seeing time to acquire fix ranging from near-instant (one time…it was awesome!), to 15+ minutes (more common), to not at all (having given up after 30+ minutes).
In all tests thus far, rover loses connection with the base altogether occasionally, seen here: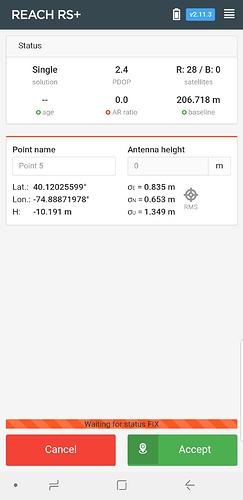 Can someone please advise what we can do to:
Get higher AR ratios in a timely manner/Get more consistent time to obtain fix
Get consistent fixes
Not lose connection to base
Hoping to get a good handle on the use of the Reach RS+'s to get GCP coords with ease, in a timely manner…
Thank you!