I recently purchased 4 Reach RS+ units and have gone through the guides and videos to set them up and make Base/Rover pairs (including updating everything). One pair works well and is going fine, with the other pair the unit I decided to set as the base is not picking up any satellites. In the initial setup I turned off Glonass and turned on Beidou (on all units, not just the issue one). I then also tried different combinations of Galileo, Glonass and Beidou hoping for something.
When trying to search the forums for this issue I came across some mention of an old issue where you had to turn all satellite types off to change satellites. I tried doing this and it didn't help. I was unable to find anything else in the forums that seemed like it would help (likely my lack of experience with the forums and setup).
I have also left the unit out in clear sky on many occasions to see if it just needed time to pick them up initially (the other 3 units had no issues with this despite being inside at first startup).
I have tried doing this with both ReachView app on an android device and connecting through the IP address and running ReachView off the Reach RS+.
I would appreciate any help on this.
Here are screen shots of the RTK screen and status screen followed by the simple report: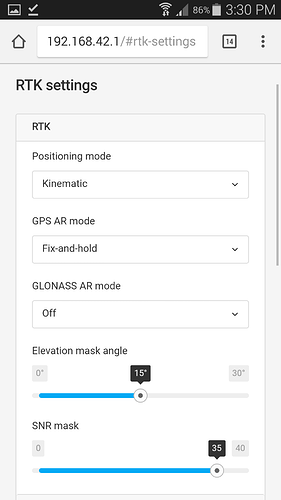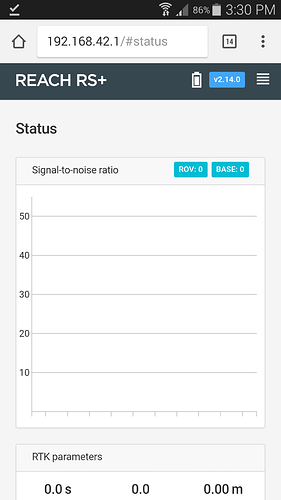 Simple system report

app version: 2.14.0-r0
'wifi_status, interface: wlan0':
- wifi_mode: ap
- access_point:
    band: bg
    channel: 1
    password: null
  ip: 192.168.42.1
  is_added: true
  is_connected: true
  mac_address: 44:2C:05:FE:9C:17
  security: wpa-psk
  ssid: Reach-base2:74:02
  uuid: df5b03e1-f54a-454b-a7d2-404225657ecf
base mode:
  base coordinates:
    accumulation: '9.9'
    antenna offset:
      east: '0'
      north: '0'
      up: '0'
    coordinates:
    - '0'
    - '0'
    - '0'
    format: llh
    mode: single-and-hold
  output:
    enabled: false
    format: rtcm3
    path: lora
    type: lora
  rtcm3 messages:
    '1002':
      enabled: true
      frequency: '1'
    '1006':
      enabled: true
      frequency: '0.1'
    '1008':
      enabled: false
      frequency: '1'
    '1010':
      enabled: false
      frequency: '1'
    '1019':
      enabled: false
      frequency: '1'
    '1020':
      enabled: false
      frequency: '1'
    '1097':
      enabled: true
      frequency: '0.5'
    '1107':
      enabled: false
      frequency: '1'
    '1117':
      enabled: false
      frequency: '1'
    '1127':
      enabled: true
      frequency: '0.5'
    gps:
      enabled: false
      frequency: '1'
    qzss:
      enabled: false
      frequency: '1'
bluetooth:
  discoverable: false
  enabled: false
  pin: '***'
correction input:
  input2:
    enabled: false
    format: rtcm3
    path: ttyMFD2:38400:8:n:1:off
    send position to base: 'off'
    type: serial
  input3:
    enabled: false
    format: rtcm3
    path: :9028
    type: tcpsvr
logging:
  base:
    format: RTCM3
    started: true
    version: null
  correction:
    format: RTCM3
    started: true
    version: null
  interval: 24
  overwrite: true
  raw:
    format: UBX
    started: true
    version: null
  solution:
    format: LLH
    started: true
    version: null
lora:
  air rate: '18.23'
  frequency: 868000
  output power: '20'
position output:
  output1:
    enabled: false
    format: nmea
    path: bluetooth
    type: bluetooth
  output2:
    enabled: false
    format: llh
    path: :9001
    type: tcpsvr
  output3:
    enabled: true
    format: llh
    path: :2014
    type: tcpsvr
  output4:
    enabled: true
    format: llh
    path: :2015
    type: tcpsvr
rtk settings:
  elevation mask angle: '15'
  glonass ar mode: 'off'
  gps ar mode: fix-and-hold
  max horizontal acceleration: '1'
  max vertical acceleration: '1'
  positioning mode: kinematic
  positioning systems:
    compass: false
    galileo: true
    glonass: true
    gps: true
    qzs: true
    qzss: true
    sbas: true
  snr mask: '35'
  update rate: '1'