Hi all,
First time posting here. I'm working on an RTK project involving RTKLIB. My setup is the following:
Reach RS+ as Base Station

Raspberry Pi with Raspbian 9.9 (Stretch) as a Rover.
I connected the raspberry to a Neo-M8T GNSS receiver via USB (/dev/ttyACM0 port) and a Reach M+ LoRa radio via UART (/dev/ttyAMA0 port).
Both base and rover LoRa radio are configured to match the frequency and air data rate (910MHz and 9.11 kb/s).
I have managed to achieve a semi-stable fix solution when moving but im having a lot of trouble keeping that state. Here is one of the tests I did:
Looking at the base data received by the rover it looks like there is a communication issue:
I believe all these gaps are what is making my solution less robust and prone to losing fix.
Has anyone encountered a similar problem? Does anyone know any way to correct this communication issue?
Here is the configuration im using on the Reach RS+: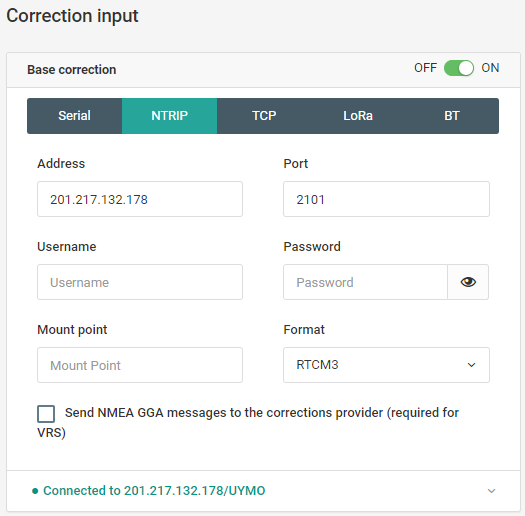 Thanks in advance.