Hello. New forum user, but I've been researching the forums for a week now, and cannot seem to figure out the issue I am seeing. I am in Wisconsin, and am connecting my Reach RS rover to the WisCORs network. For this purpose, I want to utilize the Rover only (even though I have a base unit as well).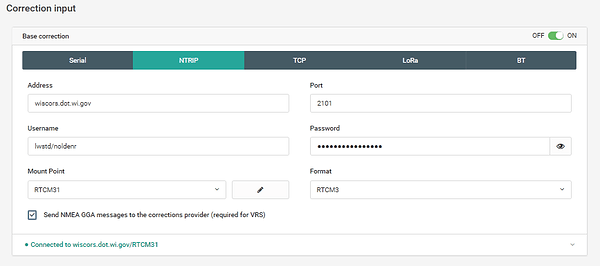 Next, after getting connected to WisCORs I want to connect my Samsung Galaxy S7 to the Rover via bluetooth using NMEA format. I keep getting a "Send error (111) even though my Rover says it is connected for call and media audio to my phone.


Am I doing this correctly to see the data coming from the Reach RS rover on my phone utilizing the Reachview app? Is this the best way to connect my phone to the rover, and if not what is the best way?
In addition, is there a way to change coordinate systems and units (to a local SPC system in US Survey feet) within the Reachview App? If not, is this something that is being looked at for the future?