I'm running 2.22.4 on two Reach RS+ receivers that are about 1.2 meters apart from each other with a clear view of the sky. I'm mostly leveraging 2 receivers for heading. I've started using the altitudes for roll compensation. One of the receivers started reporting an altitude shifted by about 10cm occasionally.
You can see the altitude signal jumping around at the beginning of this plot. This is from the LLH file


I don't have the LLH from the other receiver but can get it tomorrow.
This is a ROS plot that shows the altitudes of both receivers so you can see the error better.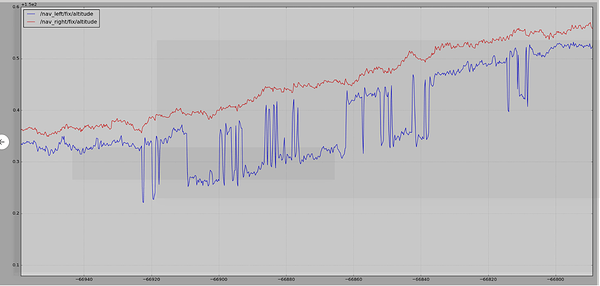 I wasn't operating the machine but it was reported that this problem occurred for around an hour. At that point we rebooted the receiver and the altitude was correct again.
During this time the lat/lon was correct and we had fix level quality.
Can anyone explain what is going on that would cause the lat/lon to be correct with RTK Fix but would cause the altitude to jump around?
I can provide any additional logs from the base and the receiver tomorrow. I'm interested in learning how to analyze these logs and determine the root cause myself when possible.