I'm using Reach RS with latest update and trying to output NMEA data via bluetooth to external device.
I have 5Hz Update rate configured.
I figured out that bluetooth out have huge delay - after 10 minutes of outputting data the lag is around 3 seconds and it is increasing with time.
It can be related to amount of NMEA messages outputted in 5Hz update rate, or that other ports outputting in the same time.
Is it possible to change messages that are outputted via bluetooth. For example I need only $GPRMC in 5Hz rate, but GPGGA or GPGSA and others can be 1Hz or disabled.
Is it possible to leave only bluetooth output on, and others methods off?
With such delay it is impossible to use this bluetooth output with external devices.
UPDATE #1
I found also that there is Send Error (111) in ReachView app even when I'm not connected to any device.
I tried also connection with different android devices. All of them had this lag.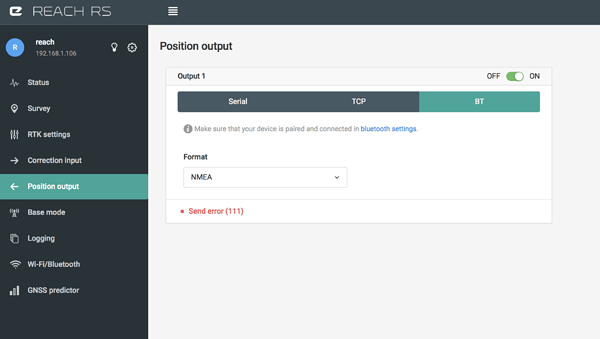 UPDATE #2
After changing 5Hz to 1Hz update rate bluetooth output lag is not noticeable.
So how to change what NMEA messages will be outputted via bluetooth and messages frequency.
How to turn off other outputs?
I know that ReachView doesn't have this options, but maybe it is possible somehow from console?