I am trying to set up a new Reach M2. Reach RS2 would just power on and present me with an access point. M2 lights the orange LED and that's it - i.e. not what I would expect according to the documentation.
If I plug it via USB into a Windows computer, the computer finds the device Reach M2 (unknown) but the device gets unmounted in a little while.
I downloaded and launched Reach Firmware Flash Tool, chose M2, downloaded the newest firmware, connected Reach M2 in firmware update mode. Reach M2 is found by the Flash Tool and updating proceeds. During the update process I see briefly a new drive appearing (boot D: - Windows says there is a problem with this drive) and then a Neutis_N5_serial device appears while Firmware Flashing.
When the update has reached 100%, sometimes a COM port appears for Reach. Then Firmware Flash Tool says "Rebooting the device…" and stays like that for quite a long time. Then I get "Firmware update failed" and an option to try again. I have "tried again" a few times already.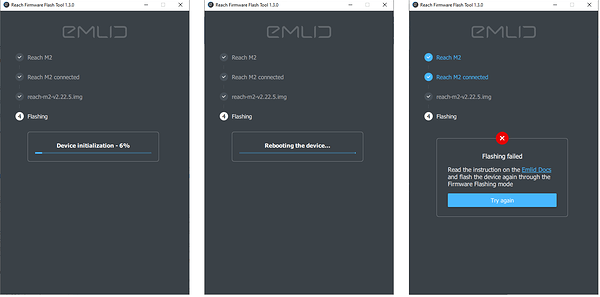 Reach M2 also gets quite hot during this.
This is a new device we received as part of the M2 UAV mapping kit.