I want to perform PPK. Connect Reach M + to a Canon S100 camera, using the Canon Precision Geotagging Cable (tuffwing) and perform the initial setup for Wifi, select GPS at 14 Hz and do not modify another parameter of the initial range setting.
Make a test with a series of captures with the camera and devices in hand. Not flying.
In Logg download, the .ubx file and I did the postprocessing. In the data transformation to RINEX I only extract two files: .obs and .nav. This is because I don't have a base.
Reach view sample that camera marks were generated.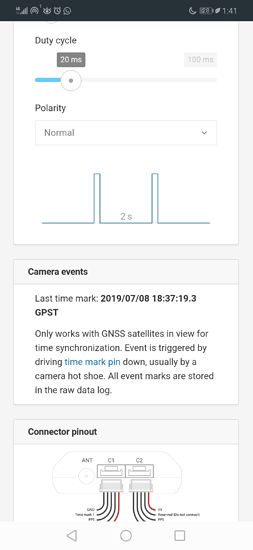 The first problem is that I don't take too many photos, although we do the capture around a rectangular area I don't identify the points of Photo or camera time stamps.
The second problem is that it is a record of camera time stamps. It's the first time we use Reach, they could target and get a timestamp even once or the problem is in the cable you use or I have a configuration error of the scope
I await your comments.