Hi,
I have been working on using the RC failsafe with the Navio2 but haven't been able to reach any good results.
My RC controller is a Futaba mz-12 and my receiver is a GR-12. I have configured them to send a failsafe PWM signal on every RC channel which is equal to the minimum signal on each channel.
The test I was performing then was to switch on the RC and the autopilot, arm the copter then switch down the RC controller and check what happened.
When using a Pixhawk with ArduCopter 3.4.2, the signal received from the RC receptor is as follows: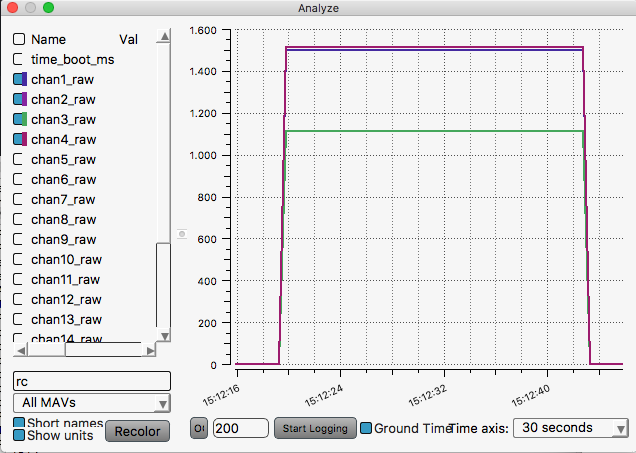 As it can be seen, the signal goes down to 0 when the RC controller is switched off.
When performing the same test with the Navio (exactly same firmware version, same RC controller and receiver),the signal does not change its value when switching down the controller: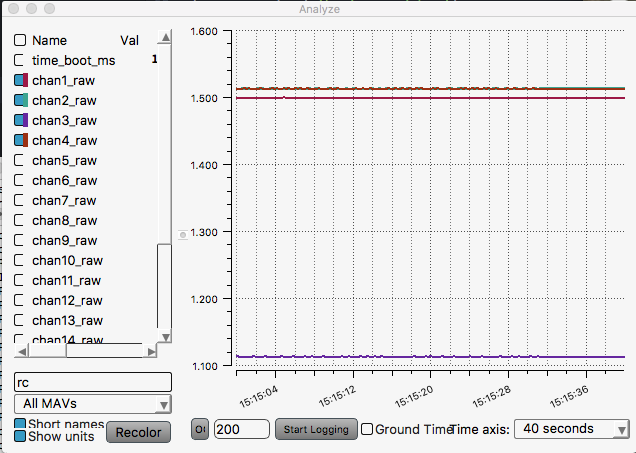 Going through some posts in the forum, I tried to type the following command in the raspberry console:
sudo cat /sys/kernel/rcio/rcin/ch1
I got exactly the same PWM signal when the controller was on and off. So it seems that either the receiver is still sending the same value (but then how is the Pixhawk able to see that the controller is switched off) or that whenever my controller is switched off the Navio stops reading from that port.
Any help would be appreciated.
Cheers,
Nacho.
EDIT: with the Navio and the RC switched on, I unplugged the receiver and still was getting the last values sent. I think this is a serious safety concern as if for any reason the link between the receiver and the Navio is damaged during flight the drone could fly away without any possibility of controlling it.