Hi! I bought a 433Mhz radio (Im located in Korea) for telemetry purposes, and before everything I would like to test out the serial communications in a terminal to check if I can control the pi/navio2 similar to ssh.
I have it set up, but Im not sure if the plug is connecting all the way through. Is quite hard to fit the plug on the navio2 board, and Im not sure if it is fitted all the way through. This photo shows how it is set up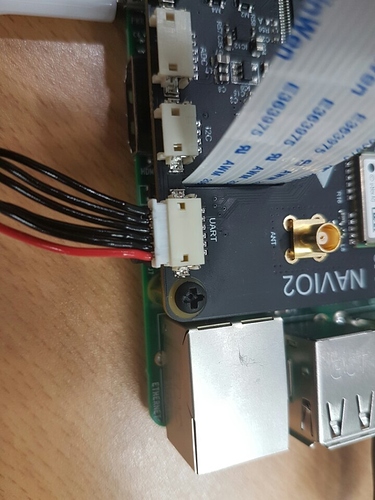 Is this correct? The led on the radio modem blinks, so I guess its ok.
If it is, I still cannot via terminal to the pi/navio2 usign either linux or windows.
On windows I tried to use both screen and minicom and neither one worked. I did the following
screen /dev/ttyUSB0 115200
and later after this didnt work
minicom -b 115200 -o -D /dev/ttyUSB0
I also tried to use /dev/ttyS0 and nothing
Then I tried putty on windows and also negative.
Do I have to write any line of code on the pi/navio2 ? All that I did was just plug in the antenna on the navio, the other antenna on my laptop USB and try to connect,
If I am missing something please let me know.
THanks!!