Hi,
I am new to PPK and eventually faced the problem.
I am using the Emlid studio app v1.3.
Yesterday with my Phantom 4 RTK I surveyed the area where a GSM connection wasn't available. I turned off RTK mode for my drone and surveyed successfully.
So, today I downloaded the nearest CORS base station raw data (starting and ending of the survey time are considered) and wanted to get RTK Fixed on my flight utilizing Emlid studio. But the results were not as successful as my surveying. Please, see attached screenshot of my results and inserted files.

After that, I tried different CORS base station data but the results were the same or worse.
Then near the office, I tried a test flight with my Reach RS2 base station and recorded the Rinex raw data file and the results were not encouraging
Please, see the attached screenshot: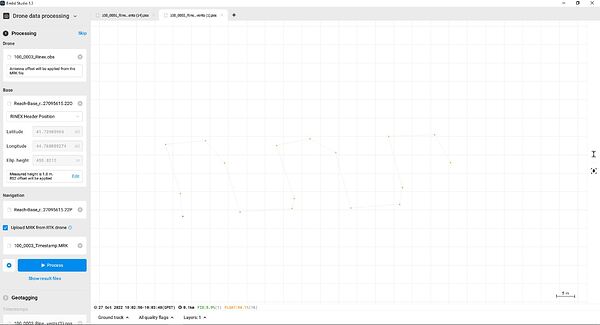 Finally, I am uploading all mentioned raw data files to have a look, and if it is possible let me know in which part I am making the mistake that is leading me to the Float solution.
Drone Survey raw data (2022.10.26) -
Drone_Raw_Data_2022_10_26.zip (4.5 MB)
CORS raw data (2022.10.26) -
guda299j00.rnx.zip (7.1 MB)
Drone Test survey (2022.10.27) -
Drone_Test_Survey_2022_10_27.zip (400.1 KB)
RS2 base raw data (2022.10.27) -
Reach-Base_raw_20221027095615_RINEX_3_00.zip (491.1 KB)
Hope we will find a solution.
Best,
Lado