My objective seems easy enough. I want to make sure I can set up my base and allow it to log for at least 30 minutes (which has been recommended in other threads) and then survey a few points with my rover. Afterwards, I would bring my base RINEX and rover RINEX logs into RTKPOST, and perform PPK which should make my rover output files to have very accurate positioning RELATIVE to the base. I expect to be too far from CORS type stations to use that data in real projects, so I want to make sure I can get great relative position using PPK. (Note: I am not interested in RTK for this. THe LoRa radio has proven to be unreliable for my purposes)
Repeatability is the key objective here, so I set tried to test that.
FIELD WORK
I set up my base, and let it log in static mode using GPS, GLONASS and SBAS. I positioned three GCP tagerts within 10 meters of the base. While the base logged, I started the rover using the same settings as the base. I logged RAW DATA over each GCP. I logged the raw data by activating the raw logs for 30 seconds while over each GCP, and stopping logging before moving to the next GCP.
I logged the 3 GCPS, and called this series Run A. I then waited ten minutes and performed the same sequence of logging, calling this series Run B.
I then shut off the rover, and ended the raw logging on the base and shut that down as well.
I then completely restarted this test. I turned the base back on and started logging a new raw files and logged over the GCPS for 2 more runs, called Run C and Run D. Thus, I had logged each GCPS 4 times. As I restarted the base between RunB and Run C, I intended to compare RunA to RunB, and compare RunC to RunD. If these were within a few cm after PPK, I would then compare RunA to RunC, etc.
Post Processing
I organized my data, and set out to do PPK on the raw logs for each test. The files I used were my Rover 0.bs, my Base .obs, and my Rover .nav.
My RTKPost settings looked as follows. (Note, I tried a few different positioning modes. Including Static, Kenimatic, and start Start Static)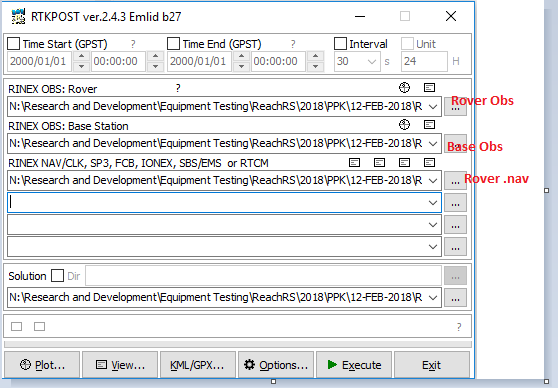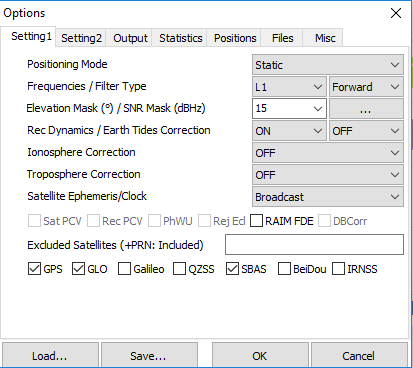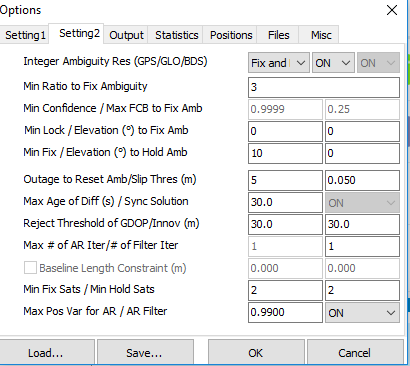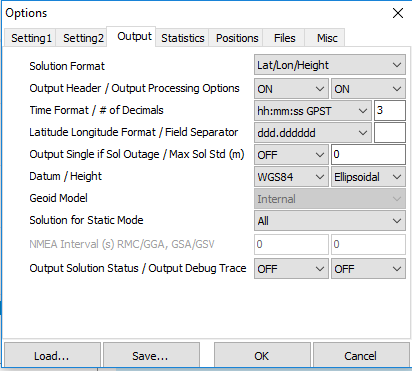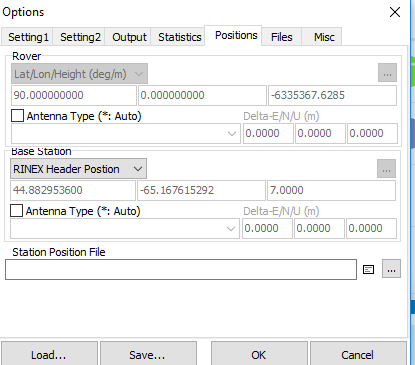 These seem to be the settings that I need to set for this process, based on input from other threads.
Results
So, the difference between RunA_Target2 and RunB_Target2 is huge. Like, 2.5 (remember, these are the same target, using the same base station files, The raw rover data was simply logged about 10 minutes apart). I am seeing similar difference between all of my logged positions that I want to get within a few cms of each other (IE, RunA_Target1 close to RunB_Target1, and RunC_Target1close to RunD_Target1)
Here is what I am seeing after PPK and bringing it into QGIS. The Green Clusters are the Q1 solutions for RunA_Target2 and RunB_Target2. The pink dots are Q2 or worse solutions. Again, the difference between the Q1 clusters is 2.5 meters, which is equivalent to what I would expect if I simply logged in float.
Is my thinking here wrong? Is there something wrong with my settings? Is 30 minutes base logging time and 30 second logging over the points of interest with the rover a proven workflow, as I've seen in some of the other threads?
Help is appreciated. Thank you.