I thought I would share a workflow we've figured out that we think is a good measure to figure out absolute position. If we have an error, hopefully it can be corrected and it can be a useful guide for those in a similar position to us.
We are working in a situation where we have no known points, CORS is frequently not possible, and we cannot use an M+/M2 because we have a DJI drone.
We are using two RS2s (rover, base), a DJI drone (thus no M2), and ground control points (GCPs).
Here is our process:
Place the base station on a high point. Turn on the base and let it average it's position. Turn on logging.

Place six GCPs around the property, roughly around the perimeter.

Fly the drone survey.

Turn on the rover. Turn on logging. Get FIX.

Start a Reachview survey either via browser or Reachview3 connection. Drive to the first GCP, collect the point and let it collect data for 20 minutes. Drive to the second GCP, collect data for one minute. Drive to the 3rd, collect for one minute etc.

Go back to camp. Download the logs from the base and the rover. Download the GCP survey as a .csv.

Because our base position was not absolute, we need to have it corrected via a reference station. In our case, being in Canada, we used NRTCan PPP.
We uploaded our base station RINEX-3_03.zip file as in the picture and within half-an-hour received the corrected file back. In our case, we received a .pos file. We now have the absolute position of the base.
Open RTKLib, specifically RTKConv.
We downloaded our rover log in RINEX 3.03 but it only produces files in the .21B, .21O and .21P format. So import the rover .ubx file into RTKConv, and click "convert". If you download RTKLib from Emlid, it seems all the settings are already correct and don't require adjustment.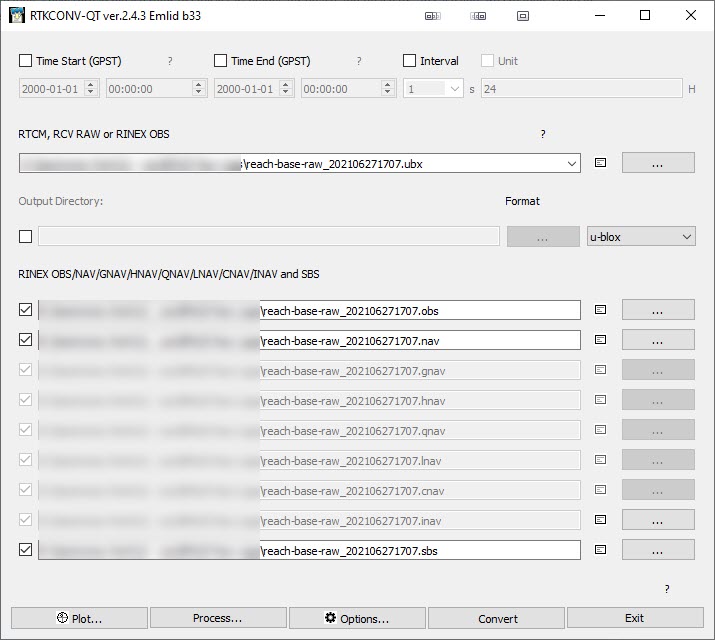 Open RTKPost. Again, as it was downloaded from Emlid all the settings appear correct without adjustment. Enter the Rinex rover .obs file and the Rinex base .obs.
In our case, we received a .pos (and .csv) from NRTCan for the base correction so I used the .pos file in place of the .obs. This may have been an error - but as far as I can tell RTKLib processed the data fine.
Click execute. We now have the corrected rover position in a .pos file.
Open jurijs.jeshkins PPK Point Extractor Software. Import the new rover.pos file and the GCP survey .csv file.
Process each point (or batch process). Save as a corrected .csv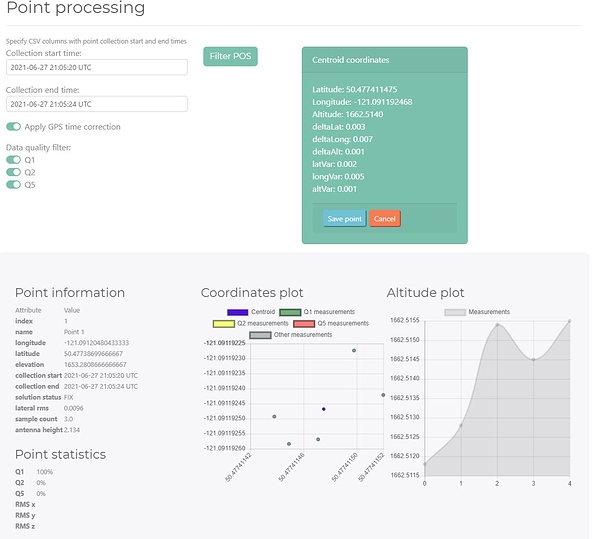 At this point, we should have our corrected GCP points which we can import back into our UAV software to correct the flight.