We have a number of 5Hz Reach RINEX files (firmware image v2.3, ReachView 2.5.3-r0) recording during UAV flights that we're looking to postprocess using RTKPOST. We're processing them against a 5Hz base station record from a known position – actually a Trimble basestation rather than another Emlid unit – using Emlid's RTKPOST (ver 2.4.3 Emlid b27), largely according to Emlid documentation with some additional influence from the Tuffwing Reach PPK guide.
However, I've noticed that the output was surprisingly poor (large sections of flight were float rather than fix) compared to what we were expecting. Motivated by the fact that we weren't using solely Emlid data, I redid the processing using identical settings (loading the same .conf file) on the 'vanilla' RTKPOST software from http://www.rtklib.com/ (ver 2.4.2).
I was quite surprised to see dramatic differences between the two outputs. An example is here as follows, using identical input files and settings:
Emlid RTKLIB ver 2.4.3 Emlid b27:

Vanilla RTKLIB ver 2.4.2: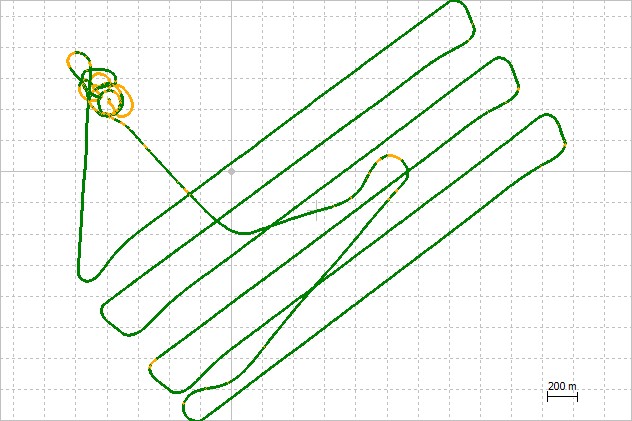 I'd be interested to know what might be behind this significant difference, and whether we can replicate the quality of the vanilla RTKLIB in the Emlid RTKLIB? I'd rather use the Emlid version as it comes with a nicely edited _events.pos file for our camera triggers, but I'd like to be sure it's trustworthy first!
A few more observations that might be of use:
I have tested the two different software on 19 flights so far. For all of our flights, the Emlid RTKPOST provides consistently similar but different results to the vanilla RTKPOST.
In a few cases, the Emlid version provided a better output, but more often the Emlid output is worse (i.e. less periods of fix than the vanilla version).
There are multiple examples of the Emlid RTKPOST providing 'patchy' coverage where the vanilla RTKPOST provided near-perfect coverage (e.g. the images above). There no examples of the reverse.
Even on examples where both results are 'patchy', the results are still different: periods of fix and float differ between software outputs.
The Emlid version processes notably quicker.
The only additional option I can see in the Emlid version of RTKPOST is the option for an AR filter, which when turned on/off changes, but does not eliminate, the float solution regions.
For a very poor dataset we have, the Emlid version tends drops poor datapoints entirely, whereas the vanilla version tends to classify Q=5.
(I hope no one minds but I'm looking to keep our files confidential – I will email examples to support@emlid. However, I'd be equally interested to see if anyone can reproduce this using their own data).