Hi Emlid community. I have both M+ and M2, but Im having trouble with my M+ signal.
Im only having around 20% of fix after PPK and the reason must be the week signal the system is getting. Im getting in green (good signal) only 2 or 3 sattelites only meanwhile on the M2 I get 18 easely.
Im using 10cm metal ground plate with full sky view and still I get this results. Please help me find the problem.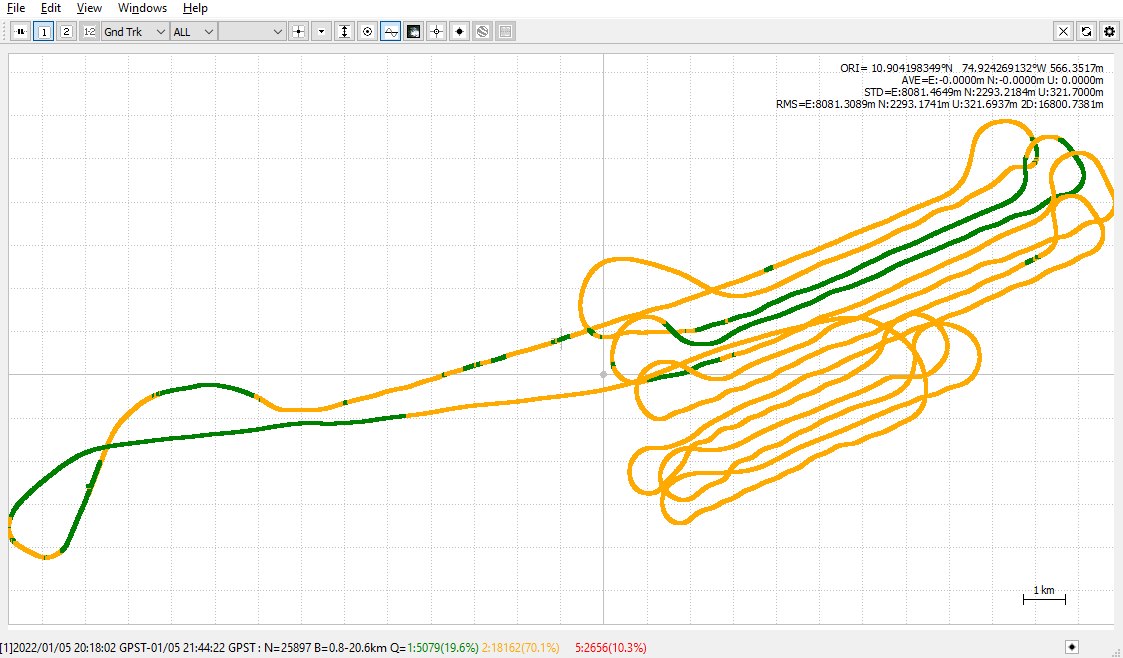 Here is the Simple Report:
app version: 26.6-r0
current_network:
ip: 192.168.42.1
security: wpa-psk
ssid: reach:74:0E
enabled: true
mode: hotspot
base_mode:
base_coordinates:
accumulation: '120'

mode: single-and-hold

output:
io_type: tcpsvr

settings:

  cloud:

    mount_point: ''

  lora:

    air_rate: 9.1099999999999994

    frequency: 902000

    output_power: 20

  ntripsvr:

    address: ''

    mount_point: ''

    password: '***'

    port: -1

  serial:

    baud_rate: 38400

    device: ttyEXTS0

  tcpcli:

    address: localhost

    port: 9001

  tcpsvr:

    port: 9000

rtcm3_messages:
message_1002:

  enabled: true

  frequency: '1'

message_1006:

  enabled: true

  frequency: '0.1'

message_1010:

  enabled: true

  frequency: '0.5'

message_1097:

  enabled: true

  frequency: '0.5'

message_1107:

  enabled: true

  frequency: '0.5'

message_1117:

  enabled: true

  frequency: '1'

message_1127:

  enabled: true

  frequency: '0.5'

bluetooth:
enabled: false
pairing:
discoverable: false

pin: '***'

camera_trigger:
duty_cycle: 20
enabled: false
period: 2
reverse_polarity: false
correction_input:
base_corrections:
io_type: serial

settings:

  bluetooth:

    send_position_to_base: false

  cloud:

    mount_point: ''

    send_position_to_base: true

  lora:

    air_rate: 9.1099999999999994

    frequency: 902000

    output_power: 20

    send_position_to_base: false

  ntripcli:

    address: ''

    mount_point: ''

    password: '***'

    port: -1

    send_position_to_base: true

    username: ''

  serial:

    baud_rate: 57600

    device: ttyEXTS0

    send_position_to_base: false

  tcpcli:

    address: localhost

    port: 10001

    send_position_to_base: true

  tcpsvr:

    port: 10000

    send_position_to_base: true

device:
privacy_policy_accepted: true
role: null
usage_analysis_accepted: false
logging:
logs:
base:

  autostart: false

  format: RTCM3

  started: false

correction:

  autostart: false

  format: RTCM3

  started: true

raw:

  autostart: true

  format: UBX

  rinex_options:

    logging_interval: 1

    marker_name: null

    pole_height: null

    satellite_systems:

      beidou: false

      galileo: false

      glonass: true

      gps: true

      qzss: false

      sbas: false

  started: false

solution:

  autostart: false

  format: LLH

  started: false

settings:
debug: false

interval: 24

overwrite: true

position_output:
output1:
io_type: serial

nmea_settings:

  bluetooth:

    gga:

      enabled: true

      update_rate: 1

    gsa:

      enabled: true

      update_rate: 1

    gst:

      enabled: true

      update_rate: 1

    gsv:

      enabled: true

      update_rate: 1

    main_talker_id: gn

    rmc:

      enabled: true

      update_rate: 1

    vtg:

      enabled: true

      update_rate: 1

    zda:

      enabled: true

      update_rate: 1

  serial:

    gga:

      enabled: true

      update_rate: 1

    gsa:

      enabled: true

      update_rate: 1

    gst:

      enabled: true

      update_rate: 1

    gsv:

      enabled: true

      update_rate: 1

    main_talker_id: gn

    rmc:

      enabled: true

      update_rate: 1

    vtg:

      enabled: true

      update_rate: 1

    zda:

      enabled: true

      update_rate: 1

  tcpcli:

    gga:

      enabled: true

      update_rate: 1

    gsa:

      enabled: true

      update_rate: 1

    gst:

      enabled: true

      update_rate: 1

    gsv:

      enabled: true

      update_rate: 1

    main_talker_id: gn

    rmc:

      enabled: true

      update_rate: 1

    vtg:

      enabled: true

      update_rate: 1

    zda:

      enabled: true

      update_rate: 1

  tcpsvr:

    gga:

      enabled: true

      update_rate: 1

    gsa:

      enabled: true

      update_rate: 1

    gst:

      enabled: true

      update_rate: 1

    gsv:

      enabled: true

      update_rate: 1

    main_talker_id: gn

    rmc:

      enabled: true

      update_rate: 1

    vtg:

      enabled: true

      update_rate: 1

    zda:

      enabled: true

      update_rate: 1

settings:

  bluetooth:

    format: NMEA

  serial:

    baud_rate: 57600

    device: ttyEXTS0

    format: NMEA

  tcpcli:

    address: localhost

    format: ERB

    port: 9000

  tcpsvr:

    format: LLH

    port: 9001

output2:
io_type: tcpsvr

nmea_settings:

  bluetooth:

    gga:

      enabled: true

      update_rate: 1

    gsa:

      enabled: true

      update_rate: 1

    gst:

      enabled: true

      update_rate: 1

    gsv:

      enabled: true

      update_rate: 1

    main_talker_id: gn

    rmc:

      enabled: true

      update_rate: 1

    vtg:

      enabled: true

      update_rate: 1

    zda:

      enabled: true

      update_rate: 1

  serial:

    gga:

      enabled: true

      update_rate: 1

    gsa:

      enabled: true

      update_rate: 1

    gst:

      enabled: true

      update_rate: 1

    gsv:

      enabled: true

      update_rate: 1

    main_talker_id: gn

    rmc:

      enabled: true

      update_rate: 1

    vtg:

      enabled: true

      update_rate: 1

    zda:

      enabled: true

      update_rate: 1

  tcpcli:

    gga:

      enabled: true

      update_rate: 1

    gsa:

      enabled: true

      update_rate: 1

    gst:

      enabled: true

      update_rate: 1

    gsv:

      enabled: true

      update_rate: 1

    main_talker_id: gn

    rmc:

      enabled: true

      update_rate: 1

    vtg:

      enabled: true

      update_rate: 1

    zda:

      enabled: true

      update_rate: 1

  tcpsvr:

    gga:

      enabled: true

      update_rate: 1

    gsa:

      enabled: true

      update_rate: 1

    gst:

      enabled: true

      update_rate: 1

    gsv:

      enabled: true

      update_rate: 1

    main_talker_id: gn

    rmc:

      enabled: true

      update_rate: 1

    vtg:

      enabled: true

      update_rate: 1

    zda:

      enabled: true

      update_rate: 1

settings:

  bluetooth:

    format: NMEA

  serial:

    baud_rate: 38400

    device: ttyEXTS0

    format: ERB

  tcpcli:

    address: localhost

    format: ERB

    port: 9000

  tcpsvr:

    format: LLH

    port: 9001

positioning_settings:
elevation_mask_angle: 15
glonass_ar_mode: true
gnss_settings:
positioning_systems:

  beidou: false

  galileo: true

  glonass: true

  gps: true

  qzss: false

  sbas: false

update_rate: 5

gps_ar_mode: fix-and-hold
max_horizontal_acceleration: 1
max_vertical_acceleration: 10
positioning_mode: kinematic
snr_mask: 35