Hi,
Before starting a Auto mission I ensured that the following stuff works
Calibrated IMU and compass, ensured that the facing direction in APM Planner is the actual direction
Tested the copter in stabilize mode
Tested the copter in loiter mode
Ensured that GPS has enough satellites (11 on startup)
Ensured that throttle is around 50% for hovering
With my navio / APM setup I experienced the following problem today when doing the first auto testflight:
I did a small mission with a takeoff commando letting the copter ascent to 10 meters, 3 waypoints and a Return to launch command at the end. The first time it worked quite well EXPECT it definitely climbed not 10 meters but less (around 3-5m).
The second time I launched the same mission the the copter immediately flipped forward onto it's back and killed all it's propellers. Since the first waypoint was in front of the copter it looked like it immetiately wanted to "fly" to the first waypoint even when standing being on ground.
Since all the other modes worked well the "typical" flip on start problems like wrong probs or wrong motor order can't be the problem. I'm new to ArduPilot, but have at least some experience with multicopters in general (MultiWii based).
Does anybody know about this behavior and know how to resolve it (before I kill the next 4 propellers)? Are 10 meters too less for a "safe" height? Since it did not climb to the expected altitude I'm suspecting the barometer. Is there something I missed about it? I already put some soft foam onto it to prevent wind and sun from disturbing it. Or can something else be the problem?
Here are some additional infos for the quad copter (yes it's quite big…):
DIY frame made from aluminium rods and glass fiber reinforced plastic for center plates
Quad X configuration
580 KV motors / 30A SimonK ESCs
Gemfan 1443 Propellers (14 inch, 4,3 pitch)
Navio (no navio+) on a Raspberry PI 2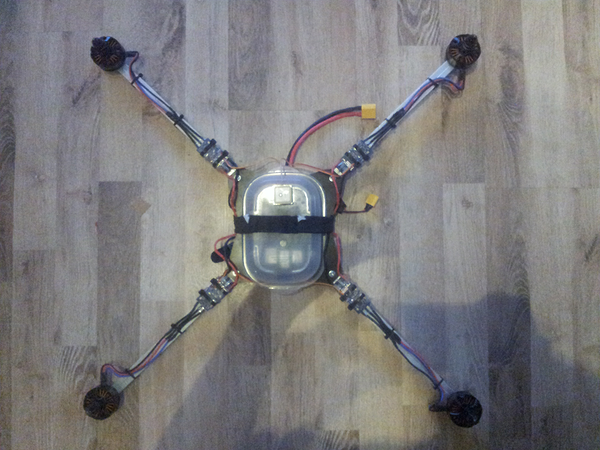 [EDIT] Another Info: Before buliding this custom copter I tested my setup with a small warthox frame (8" propellers, 1100 KV motors). Here I experieced exactly the same problem. Since the small frame was a bit underpowered for lifting all the stuff (2 accus, raspi, navio…) I deceided to build this custom frame.