Hi all,
I am having problems establishing a fix solution with my Reach RS. My problems are very similar to the user who posted here: Reach RS connected from NTRIP service. I can not "Fix Mode" Reach View APP for ANDROID
This thread thread also documents basically the same issue I have. I will next try to adopt the settings suggested by Igor there. REACH RS can NOT get FIX
I subscribed to my local service Can-Net through Cansel. I am able to access their network, and select the correct mount point, etc. I also the grey bars showing the satellites picked up by the virtual base. On this end, it seems like I am connected to the network, and sending the corrections to the Reach RS though my phone.
Initially, I wanted to use Kinematic settings and log some points with a rover pole for the simple purpose of testing the reliability of establishing and maintaining a fix. After walking in circles, in a relatively open area for 10 minutes, I could not maintain a fix. I thus decided to set up a tripod and establish a Static position via NTRIP. The pictures below are the settings I used for this configuration. I should also mention I was able to achieve a fix, but could not replicate it. I will get into the settings I used shortly.
First I did not use any auto log settings.
RTK Settings generally looked like this on the instance I was able to get a reliable fix.

After logging a point in Fix-and-Hold, I switched to continuous to see if I could get a fix with the setting. I could not. I then switched back to fix and hold, but had no success maintaining a fix. I tried numerous settings, including using GPS only (which seemed to stop the NTRIP virtual base satellites from showing in my graph), and turning GLONASS AR on or off.
My AR ration struggled to stay above 3, where a fix seems to be established. If it made it over 5 or 6, it seemed to shoot up to the hundred very quickly. This occured in the instance I did maintain a fix.
My Correction input was set as…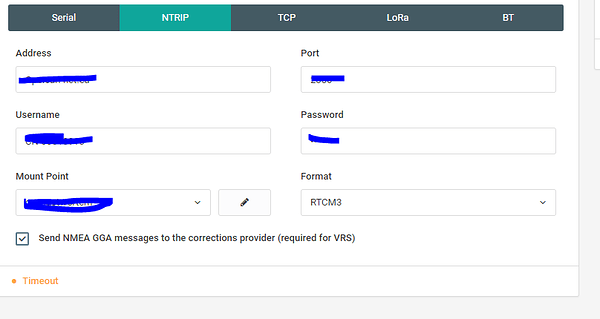 So, I am at a loss as to why I was able to get a fix with the settings configured one way, and not able to replicate it with the same settings. I waited several minutes in an attempt to get the fix back with no luck.
I was able to log 3 points, 1 a fix, and 2 as float, the result being points that are separated by up to 1.5 m.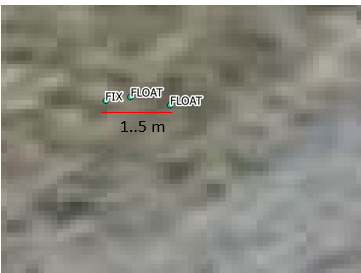 I'd like to know if my settings are wrong, or if there is some likely cause for inconsistency in finding a fix solution.
Also, I did not log raw files (forgot to switch it on, arg) so I cannot provide those of assessment.
Thanks.