In an effort to sort out why my base and rover don't communicate via 3DR radio I have tried to verify that my Reach will output anything from the UART. In searching the forum I see that Emlid support recommend using a USB-UART converter to look at the output from the UART, specifically they say to use one based on the CP2102 . Having tracked one of these down I hooked it up to my Reach and plugged it into my laptop's USB port. I set the position output to Serial, the baud rate to 57600 and asked the Reach to send me data in the NMEA format. I can see the converter as a COM port and the speed is correctly set according to the Device Manager. Looking at the port with a terminal emulator I see nothing! I connected the Grd, VCC, TX and RX connections (I tried reversing the RX and TX - it made no difference). I can see that a message on the Position Output screen in ReachView (I am running 2.5.3) that tells me I have connected to /dev/ttyMFD2. I believe that if I click on this, I should see information (the output) streaming. I see nothing. I expect (hope) that if things are actually being sent to the Serial port, this should appear when I click the message even if there isn't a device attached to the UART.
Attached below is a copy of my setup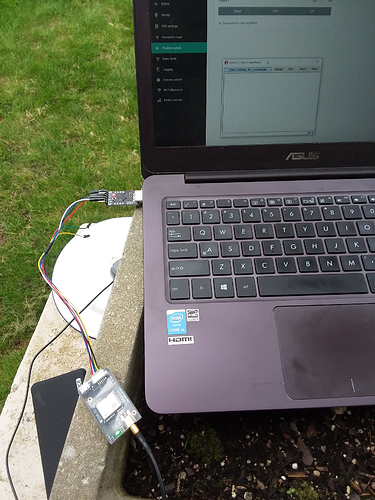 I have been able to get the base and rover to communicate via a TCP connection using my cellphone's hotspot. This isn't a viable solution for my application in the field so I need to get my radio communication working!