Hello All,
I have recently updated my RS2 units and collected some survey data and noted that the zipped RINEX file that I download from the RS2 unit contains different files. The zip file used to contain *.obs and *.nav file formats and now has *.21B, *.21O, and *.21P .
In-addition to the *.21O observation file, I need the *.nav file for post-processing in Emlid Studio (and in external software). I looked up on the Emlid forums about the change in available file formats and discovered the following post:

It seems the take away message from this post was to suggest downloading the UBX file from the antenna and use the Convert to RINEX app to create the *.obs and *.nav file.
This seems like a bit of step backwards to me. Why did Emlid release an update that now requires me to use another app to convert a UBX file to produce a *.nav file?
---
But as I was preparing to ask this question to the forum, I just noticed in Emlid studio when you hover the cursor over the question mark on the Navigation button, a list of accepted file formats pops up and at the top of the list is .**P. Which I guess indicates that the *.21P file is the needed navigation file for processing! I think the above post should have mentioned this, so I created this posting to possibly help others.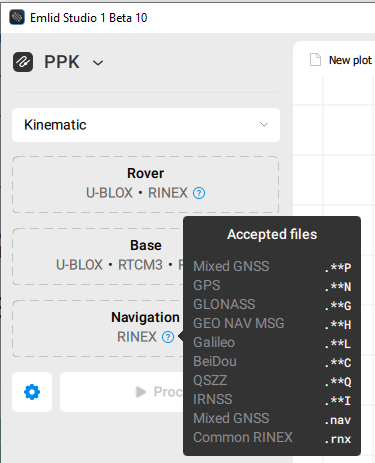 *.nav file = *.21P file