I'm experiencing 0 output on navio+ pins, my qbrain 4x25a esc says throttle signal is abnormal (also when the quadcopter is armed and throttle is high/low). Although with my servo tester the esc and motors work fine.
I've also tried with a LED, which doesn't glow at all on whatever pin or polarity i put it on. I've tested with both mission planner and the servo example from the docs. Although the LED glows with my servo tester.
I've tried the same thing with a voltage measurer and got equal results.
i'm using the newest version of emlids navio+ os, Mission Planner 1.3.50 and APM:Copter V3.4.6
Here's a picture of my setup: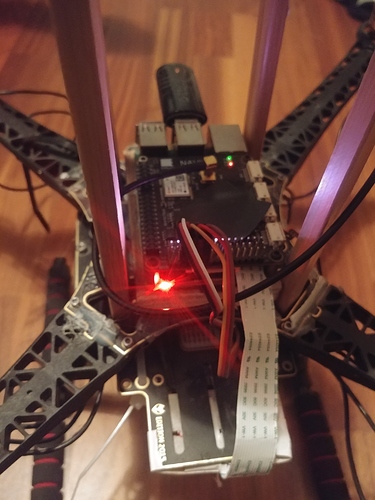 And a link to my current missionplanner params:
http://emi1.se/Software/files/Params.param
This could be bad coding or just a hardware issue, i don't know because i've experienced inaccuracies with battery measurements aswell.