I am testing out my ability to create my own "known location" using PPK.
I am using a reach M unit with the base station provided by the state of TX thats about 12km away.
I found a monument which is in the concrete. I placed the antenna directly on top of it.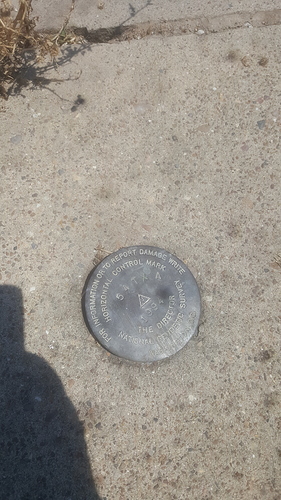 I looked up the monuments GPS coordinates to compare them to what I got with PPK.
https://www.ngs.noaa.gov/cgi-bin/ds_mark.prl?PidBox=AC8380
It shows
AC8380* NAD 83(2011) POSITION- 29 45 39.55155(N) 094 50 13.53912(W) ADJUSTED
AC8380* NAD 83(2011) ELLIP HT- -19.267 (meters) (06/27/12) ADJUSTED
The lat/long was pretty close. It was off by about 4 inches maybe. The elevation however was off by about 1 meter. The plot was all FIX. My question is are the monuments sometimes not perfect to what they have listed online? That seems like a lot to be off on the elevation.
–Daniel