I recently received my Reach M2 with Swift Navigation (Harxon HXCGPS500 w/NGS Calibration) antenna and have been eagerly testing it for accuracy. I have a couple of NY HARN monuments in the area that I have been utilizing to test against OPUS results. Unfortunately, my 2+ hour observations are being spit back at me with the following message: Your data file is less than 2 hours long. Your file will be processed by OPUS-RS instead. when it is over 2 hours. And then I get the following message from OPUS-RS: "Your input dataset is too short. OPUS-RS will not attempt
6019 a solution with less than 7.2 minutes of data." The file is over 2 hours long!
Then I converted the raw ubx file to Rinex and uploaded to OPUS again and the 2 hour file was accepted. However, then received following message: "OPUS could not process the data file that was submitted. The data was
9011 either very noisy or it was collected in kinematic mode".
I have a lot of experience and success with OPUS using other receivers…just not the M2 …yet. Configuration is Static 1Hz and I start - Stop individual log files.
Anyone else have this issue? Check out the satellite plot from RTKLib. I have sent this issue in to Emlid but have not heard back yet so I figured I would post this here in case someone in case anyone has seen this very same issue.
UBX Raw Data Link: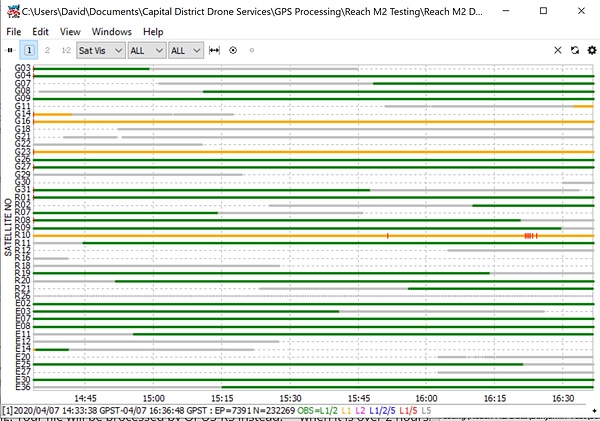 raw_202004071433_RINEX-2_11.zip
(8.5 MB)