Hi All,
I have been post-processing some Emlid Reach 24 hour stationary files collected at 1Hz, after trying a few different processing parameters I ended up with a few files with large errors (10 metres) on a dataset that I would consider benign in terms of raw data quality (see screenshot).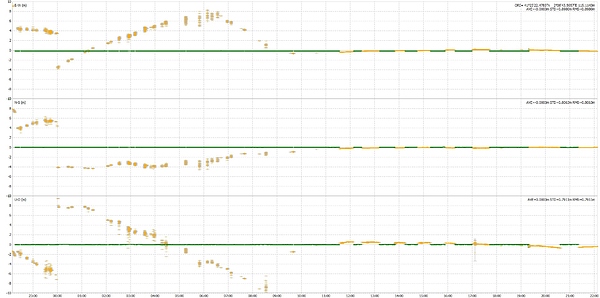 Can some one please take a look at the RINEX files (base and rover) located here:
https://drive.google.com/file/d/1LxZcnaeVoOfm-vFD0tJrOSjZiEQfXdem/view?usp=sharing
And let me know why you think the solution keeps jumping off fixed ambiguities towards float even though there is no physical change in the antenna? Note that I have tried Tomji Takasu 2.4.3 build 29 and the results are even worse than with Emlid b28 build but I obtained slightly better results with RTKlibexplorer b29b demo5 build (the initial convergence displayed fairly large errors kept for quite a bit of time but after fixing the results was better)…
Any thoughts will be welcomed.
Isaac