Hallo,
my main goal is to map tracks in the forest. First try: iPhone 6, result is bad: around 10m error. So i searched and found reach RTK. It was clear that RTK in the forest is very hard and not the best choice. But my idea was: 600euros for an RTK solution must be better than something that is build into an IPhone.
So lets see what the result is!
Setup 1: iPhone, just go along the tracks in the forest, us the app maps 3d pro
Setup 2: reach base log to file, reach rover mounted on top of my car and log to file, post processing with RTKlib.
First observation is: very good performance in open field but bad in the forest:
This image shows a segment from my track. red: single, yellow is float, and green is fix. The doted grid is 20m wide!
One can see that huge jumping around. The yellow float point are also jumping a lot…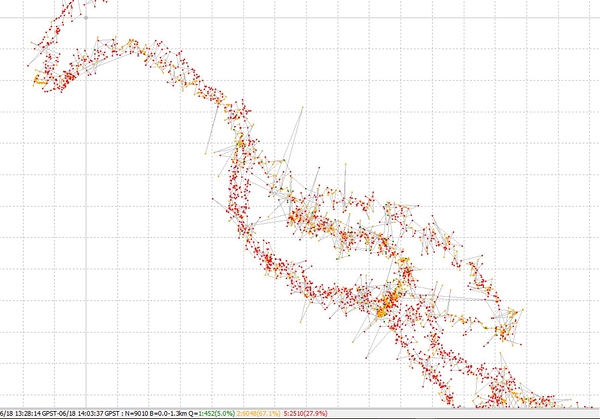 This image shows the iPhone track (red) and the reach RTK result (other circles). you can clearly see that the iPhone track is much better and the rtk point hop around for at least 10m.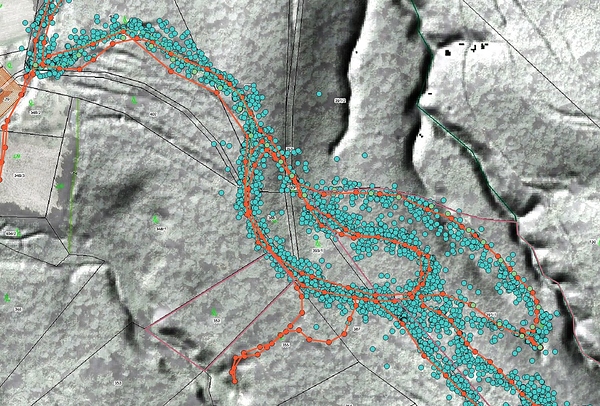 I can not believe that the iPhone is so good in relation to the RTK solution!
My idea was that rtk is at least as good as the iPhone. The RTK solution gives me 5hz data.
Questions:
How can I do an averaging to get less point but with less hoping around. I think to switch from 5hz to 1hz is not the solution. I think this only does an sampling but not an averaging over some time/points.

I know that RTK in the forest is hard. Are there setting that I can change to make it more robust. 1m or 2m accuracy would be great. 10 or 20m is too much error. Keep in mind I want to map a track, so to use static and wait for a minute at every point is not usable.
thank you and best regards
Franz