Hi i have been using data from "Share GPS" app on android to provide NMEA data over TCP to str2str, so that i can use it as a base reciever & reach emlid M+ as rover GPS reciever.
First of all i formed a tcp connection over RTKLIB to recieve gps data. I have been able to recieve this by using str2str.
Command line:-
./str2str -in tcpcli://:@192.168.xx.xxx:5005#ubx -out ntrips://:BETATEST@rtk2go.com:2101/Dude790#rtcm3
And shared this data to NTRIP caster by str2str acting as an server in RTCM3 format.
NTRIP Caster details as input are as follows:-
Address = www.rtk2go.com, Port = 2101, Password = BETATEST, Mountpoint =XYZ (word set to be unique )
Correction input details can be accessed from NTRIP caster.
Correction input details are filled in reach interface, these details are to be same as is filled for NTRIP Server.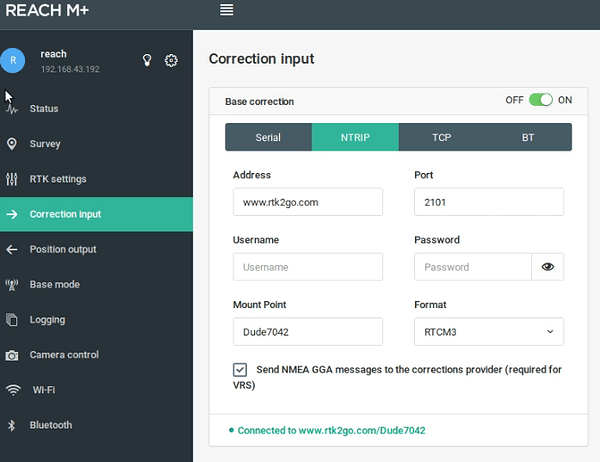 Successfully connected to caster.
RTK settings will be like-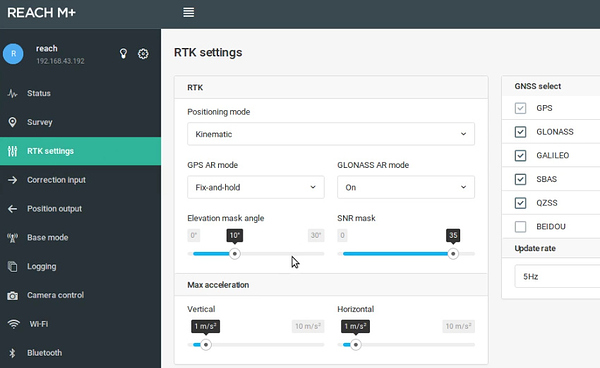 I assume that i am able to connect to NTRIP caster because i am seeeing "connected to rtk2go.com/Dude7042" but i am not able to achieve fix. To get RTK solution it must have acheived fix or float (initially) as solution status, but it is still getting Single. Also base station data is not showing on stats.
Survey console shows as below-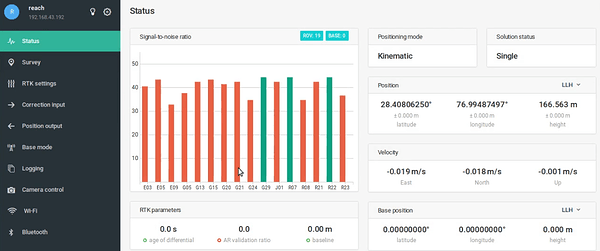 Why i am not able to get a fix or float?.. Please suggest something, where i am going wrong…