Hello there!
I have a Navio2+RPi3 quad now working very well, with a lot of stuff implemented on it
I only am now struggling on how to make my video link more robust.
I am using a 5 GHz Alfa AWUS051NH v2 wifi card to create an wifi AP from my quad, used both for video streaming through gstreamer and telemetry. Both data are received and interpretated in QGroundControl application from an Android device.
The major inconvenient of this setup is to offer limited range performance as I get no signal above 650m and gets a lot of lag in video stream. By the way the range is as well very sensitive to the quality of the antenna embedded in the Android device.
I have the "dream" that one way to improve would be that emlid provides a "ready-to-use" disk image with wifibroadcast working out of the box, with the Rpi creating 2 wifi AP : one for wifibroadcast and one for telemetry, if possible both of them on 2.3Ghz (possible under condition of modifying linux kernel http://www.mypidrone.com/menu-us/mypidrone-design/rpi2-kernel-preempt-building-with-atheros-hambands-2-3ghz-patch)
Both networks would be connected to a RPi Zero (again kernel modified to work on 2.3 Ghz frequency)
The Rpi Zero would as well create a 5 Ghz local AP network to stream back the video signal to my Android device as well as the telemetry data.
Do you guys think this set-up would be feasible/relevant? If yes, can please someone help me to set it up as I am just crap in terms of linux skills

Here is a rough scheme of my thoughts: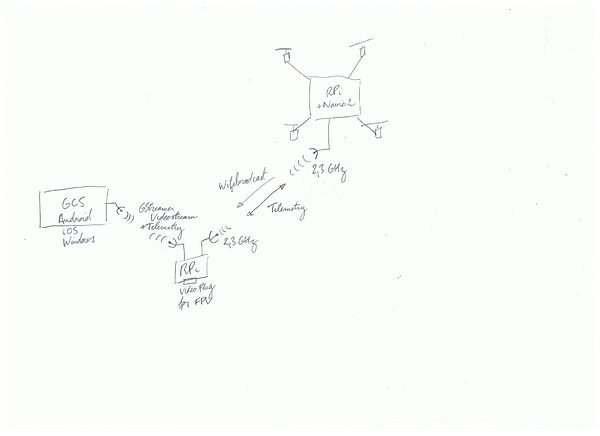 Unless you guys have better suggestions?
Greetings
Guillaume