Hello Everyone,
Yesterday we were using our emlids Reach RS+ for most of the day and had some issues that seem to relate to the temperature, our vehicle indicated that out side temp was 34C and we got a few screen shots of the internal temps: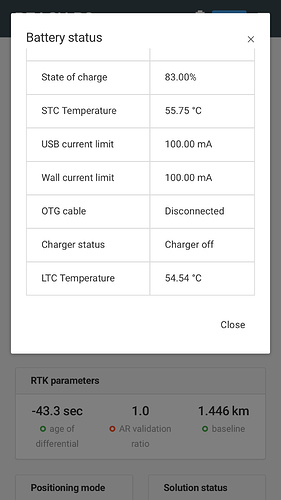 You can also see some weirdness that we were experiencing, such as age of correction being "-43.3 sec", other things that we had included:
No live updates to the signal strength of the GNSS;
In ability to load the survey;
Incorrect location displayed (lat, long and elevation);
So, what is the maximum internal temps that we can expect to still have performance form the emlids?
What can we do to help lower the internal temps? (bearing in mind that we are just at the start of summer at the moment);
What have others done to try and cool down the emlids Reach RS+?
We would take the rover and bring it into the vehicle and blast it with cold air from the aircon, but that isn't great as the temp quickly climbs again, we have limited view of the sky and discontinuities in the logs.
Any help on this would be greatly appreciated.