The problem:
I'm having this problem since the begining I'm using Navio2, when I'm spining on the yaw axis
after two turns at about 90°/sec the heading is completely off, up to 25° after the first spin
(EKF Compass turns orange in MP), and by up to 40° after the second spin (EKF Compass turns red in MP).
My configuration:
Tarot-650-Sport, DJI E800 propulsion system (3510-360KV/13"), Tattu 6S4500, RPi3/Navio2, AUW2400g
Copter V3.4-rc4, Mission Planner V1.3.41, Temp 15°, no wind
WiFi & BT disabled, CompassMot calibrated, tried enabled/disabled
External HMC5983 compass on 25cm mat, onboard calibration, manual declination (1°36' for GVA/CH), offsets X-83/Y69/Z57
Internal compass #1 & #2 disabled, external compass #3 set as primary
Dataflash log: 2016-10-30 16-00-04.bin (1.9 MB)
For testing purpose I made many times the same flight pattern in PosHold at different locations and with different settings,
problem is always the same, here is the flight pattern same as in the above dataflash log:
(5 seconds pause at each steps unless specified)
Heading to 310° and takeoff at alt.3m
Forward 5m, climb to alt.10m, hover 30sec (hdg 310°)
Yaw +90° (hdg 40°), yaw +90° (hdg 130°), yaw +90° (hdg 220°), yaw +90° (hdg 310°)
Translation 10m right side, translation 10m left side (hdg stay at 310°)
Translation 10m forward, translation 10m backward (hdg stay at 310°)
Yaw 360° CW in 4sec
Hover 5sec (hdg 310°)
Yaw 360° CW in 4sec
Hover 30sec (hdg 310°)
10.Descent and landing at home point (hdg 310°)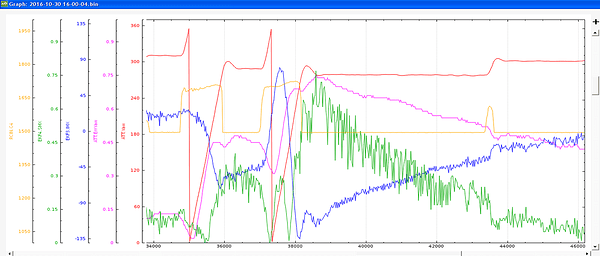 At point-7 my quad is actually heading at 310° but MP and graph shows 290°
At point-9 my quad is actually heading again at 310° but MP and graph shows 280°
Sometimes I've got serious TBE after the second spin but not always.
In the dataflash log we see the yaw not coming back to 310° after the spins.
EKF4.SMX goes up to 0.8 (mag inconstency) and takes 20 seconds to come back below 0.2.
EKF3.IMX goes up to -130 (exceed recommended max of 50) and takes forever to come down.
During the 20 seconds following the spin (39000 to 43500) my copter is slowly rotating about 10°CCW but the graph shows it's not rotating,
that's why I have to bring it back to 310° (my yaw correction at 43500).
I can even reproduce the problem by spining the quad by hand, motors/props off (therefore no high current flowing),
the heading is lost same as in real flight.
I tried the same flight pattern with another quad and a Pixhack/CopterV3.3-rc3/M8N/InternalCompass as wll as with V3.4.1, no problem at all.
Any help or suggestion about this matter would be greatly appreciated, thank you.