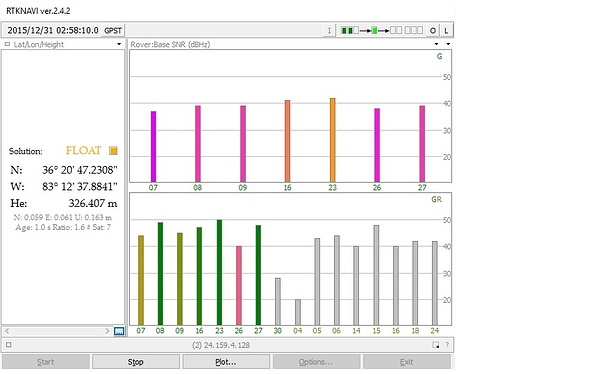 SNR mask = 35 dBHz
On the base station (bottom chart) why are only the GPS satellites used to get a fix but GLONASS signals are not, even though they meet or exceed the SNR mask?
The rover gets a little better signal, just not at that instance.
Are there any additional settings that could cause RTKNAVI to see the satellites but not use them to calculate a Fix?
Assuming I take the advice given here.
http://community.emlid.com/t/issues-with-rtklib-fix-using-neo6-t-dongle/
Using this Tallysman antenna:
http://www.digikey.com/scripts/DkSearch/dksus.dll?Detail&itemSeq=186161872&uq=635860707280879946
And these settings: