Hello,
I have a feature request: seeing real-time accuracy value, even when not measuring a point and more options to set filters.
Let me explain:
When wandering with the reach, we can't tell the real-time accuracy of the receiver before measuring a point. Hence, when you quickly measure a point (1 to 5 seconds) you're not sure if it is accurately measured or not.
On higher end product, you see live accuracy values (even when you are not measuring a point).
For example, this is what the Spectra Precision receiver UI looks like when working. All the values (age, HDOP, VDOP, PDOP) are displayed in real-time, even when not measuring a point. You can then know when you can safely quickly record a point or not.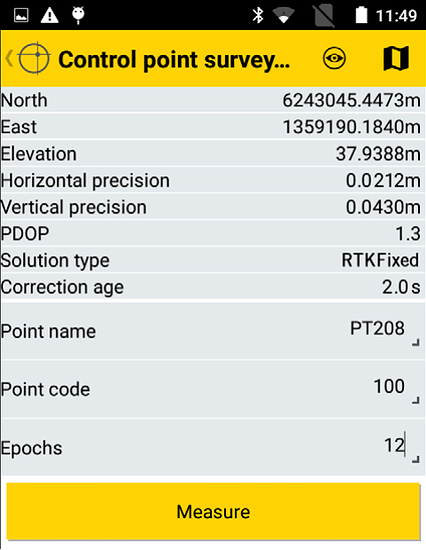 In the Reachview app, unfortunately, there is no real-time information about the age of correction and DOP. The accuracy values only appear when you start measuring a point. But for quick measurements (1 or 2 sec), there is no accuracy values calculated (too short time). Then, you don't know if your point is accurately measured or not.
Besides, when the NTRIP correction cuts, you also can record a point even after a few seconds after the loss of correction.
On higher end product, you can prevent to record a point when the last correction arrived more than 2-3 seconds ago with a dedicated filter.
There could be more filter options in the Reachview app to prevent recording less accurate points (you could be able to define tolerances of age, horizontal accuracy and vertical accuracy separately).
Here us an example of the message shown on the Spectra app when the accuracy values do not meet the tolerance filters :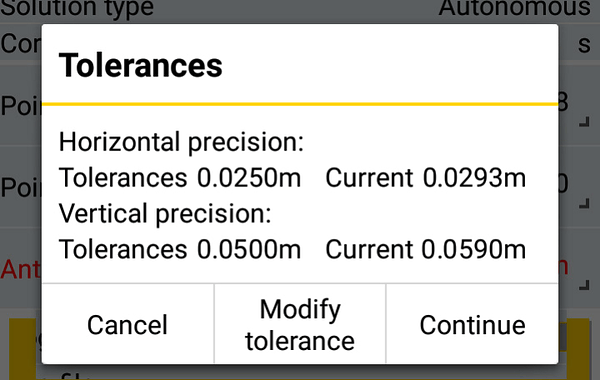 Finally, it could be great if we could measure a point instantaneously with a single touch of a button (in addition to the current start and stop measurement button). And, if we could to that with the physical buttons of the device (eg: volume buttons), this would be awesome !
Many thanks for your awesome work