I built a quadcopter and I seem unable to make it lift off or get off the ground despite the fact that its blades are spinning really fast. Here's my build"
raspberry pi 2
navio +
RX 1804 2400K (X4)
QAV250 frame
Andoer power distribution board
power module
Viper 2S 2000mah 35C battery
SimonK ESC (X4)
5030 GemFan plastic props (2 pusher 2 puller)
Here's a pic: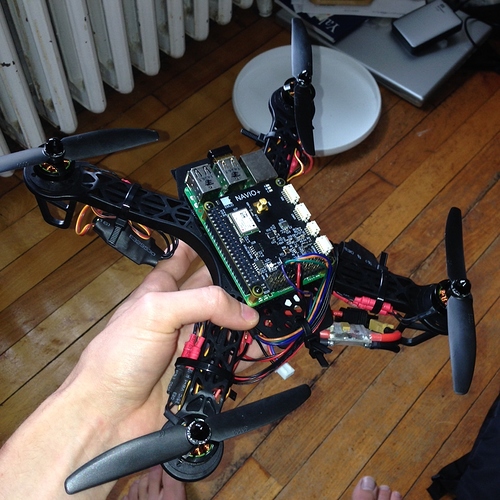 I can power it on and connect to it via MAVProxy. When I start apm on the drone the ESCs beep like this: beep beep-beep tritone
I can arm and run the motors and everything, and can even start it lifting off, but it never gets off the ground. I realized I had the motors configured in the wrong order yesterday, and before then it would slide along the ground. Now it just sits there. I can hear the motors gain speed and emit a higher pitch but it never seems to be fast enough to actually rise up.
Thoughts? Do the ESCs automatically calibrate with apm? I haven't found a way to do it so I have assumed they do. Is it possible this setup is just too heavy?