Hi everyone! I'm building a quad, and I would like your opinion before I buy and crash it.
Here is the list of main components:
On top of that, I need a charger; this one looks good: IMAX B6AC V2.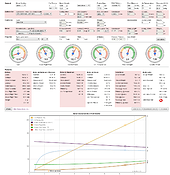 Ecalc gives me good numbers (note that I did kinda modify the underlying ecalc code in the screenshot), with the exception that the motors can apparently use up to 182.1 W, which is still OK but it could use more overhead IMHO. The only numbers I found about it is this review, which somewhere (at the "Underrated?" section) states that the motors should handle 294W (if I'm reading it right), which would be sufficient. Is that right? (Ecalc says the motors can only handle 220W…)
Also, will the power module suit my needs? Ecalc says the maximum current is 52A, but the more simple calculation of 4*30A (peak current of ESC's) shows that it might be higher. Will that be ok?
Thanks in advance for any help!