Hi,
I try to get an RTK fix with the Emlid Reach RS2. With different Emlid Reach RS2 I get a quick fix. But with one I don't.
I use a cors network. The base station is close. So that is not the problem. The Emlid Reach RS2 rover has 27 satellites in view, and the base that is close has 34.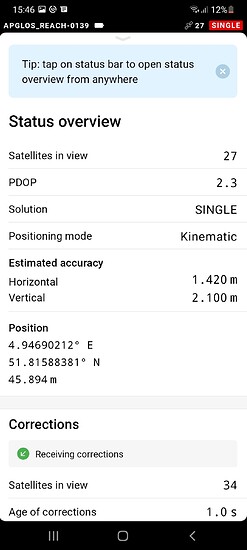 As mentioned with other Emlid Reach RS2 I get a quick fix on the same location.
But still with this one I don't get a fix. In my land survey app it stays on Single and it says it only uses 7 satellites. Which seems very strange.
I tried to give it a hard rest, but that didn't help.
Anyone ideas?
Greetings, Hanno.