Hello still trying to get Emlid to connect to everything.
I am really trying to get Emlid to be an easy solution for precision agriculture. RTK is indispensable in many farming applications requiring ground coverage efficiency. The #1 brand of all in this regard is Trimble and there Ez line of aftermarket auto guidance steering systems. After the original Trimble 150 they closed the window tight on using NMEA for guidance. Though as we have seen in my previous post Emlid M2 to Trimble Ez Guide 150 Success that this is only a software limitation.
Online as everyone has searched there is a NMEA to TSIP converter on Github. I thought this would be a good place to start so i built it to test. Looks like some nice Russian University student(s) almost made it. I will give them the benefit of the doubt and say it may have worked in their specific case but it does not in its current form work in any way with an Emlid or my TSIP guidance system. Also looking through the documents it looked as they just kind of abandoned it mid way.
After much time on google translate and programming forums (Canola is getting to tough to Combine at 10pm now) I was able to build the hardware and burn the software into the Nano.
Here is the hardware setup as directed by the C++ code. I glued everything onto a Samsung SDD CD to make it look a little more commercial and keep the components stationary.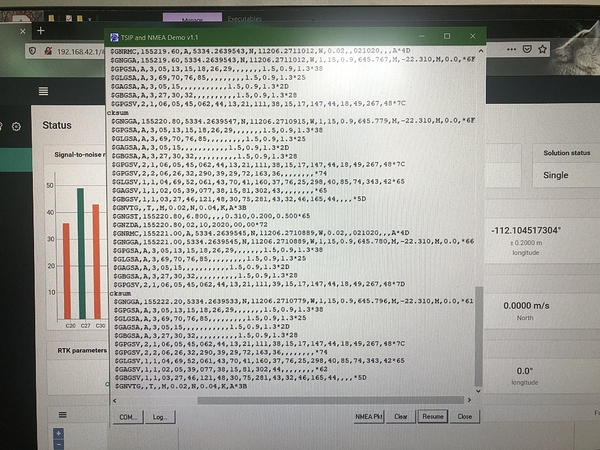 Trimbles TSIP SDK came with a great little Parser program for viewing outputs I highly recommend. It is as easy as NMEA router but it gets all the sentences. I found that the EMLID is dumping out 1527bytes of data per cycle. This exceeds the buffer size by tons in the converter program I think this is a great place to start to determine why it does not work. The Converter is also looking for only Three NMEA sentences… Need for sentence selection in the EMLID yet again. Also it is looking for GP talker code… Need for talker code selection again.
My first step to make this work will be to completely retool the front end of the converter so it can handle sorting sentences like the Shipmodul, then completely ignoring talker codes only recognizing sentences. Also I have not done it yet, but I have to calculate if it is even possible for the Nano to take the 1527byte input at 10Hz. It may need different hardware all together.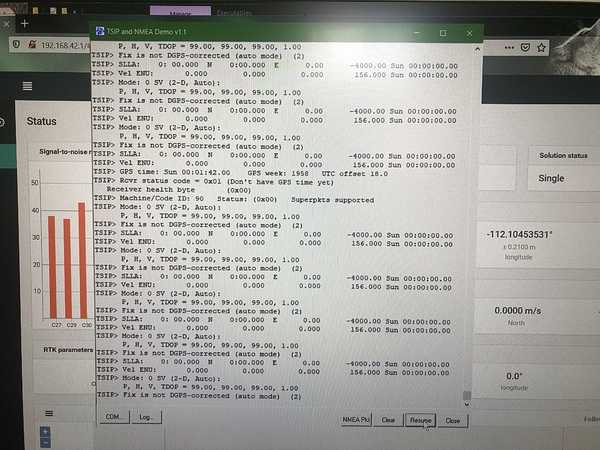 So here we see that the converter can spit out some unpopulated Junk TSIP that a Trimble should understand. So far my Ez Guide ignores this data completely, I think due to mismatched port settings more research required.
So do I think this project is possible, for sure! But it will take some time as I am both new to C# and Arduino but learning quickly. I have programmed industrial PLC and HMI before but ladder logic is truly logical. It will be a fun winter this winter, lots of learning to do.