Hello,
Here are two logs with Edge (Firmware 1.4, Arducopter 3.5.3)
https://www.dropbox.com/s/50xzz9w7zcgso8e/log_31_2018-4-11-14-50-56.bin?dl=0
https://www.dropbox.com/s/e8hf19x89exzl6y/log_32_2018-4-12-15-02-49.bin?dl=0
First log is shorter, but same RTL behaviour is registered in the log.
Flying platform is a 4kg Y6 Hexacopter. I'm still in the tuning process and I had a try at RTL lately.
Here is a picture of my setup. Landing gear is spongy, there are silent blocs isolating motors platform from landing gear-gimbal-battery setup. At flying field, ground is soft weed.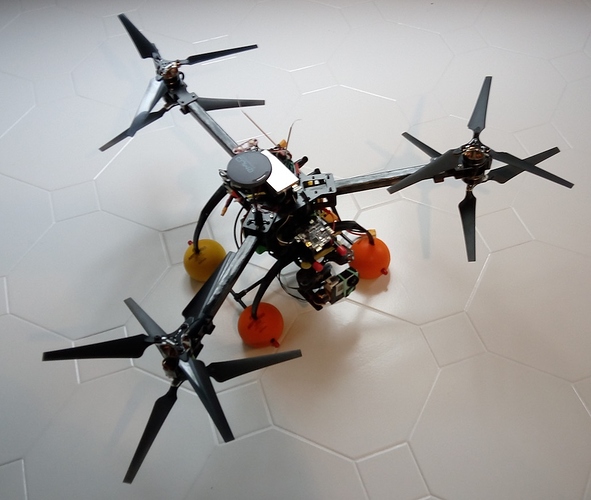 At the middle of the two flights, I commanded a RTL from R/C. Descent is OK in two steps. Landing is OK but disarm is not initiated. Motors stay at descent power, if I reduce power on the R/C, there is a moderate increase. I have to change mode to Stabilize then manually disarm to shut down motors.
I had successful RTL when flying Flat Hexacopter with Edge and firmware 1.3 with stiffer landing gear.
Same good RTL with my Navio2-Octocopter (Stretch-arducopter 3.5.5) and spongy landing gear.
Marc