Hello
I've tried to flight with the Mettatec PPK Kit for mavic pro 2.
It was not a piece of cake for the drone who was really unbalanced causing the fall of the drone several times in the very beginning of the take off. At the end of the day, the kit was broken…
I've managed to make one of the two waypoints planned with drone harmony. I did the second flight manually with a hand take off witch was not supported by drone harmony.
Anyway, this is how I did the survey:
Base RS2+ (NTRIP correction + Log activated for PPK)
Rover RS+ to measure GCP's (Lora correction from the Base)
Drone + PPK kit (Reach M2+Antenna) + Lora connected to the reach M2 + Log activated for PPK + 159 photos taken.
PPK
I'm struggling to post processing the drone data.
Emlid Studio doesn't want to open the image's folder because it must contain 5729 photos but i'ave taken only 159 photos.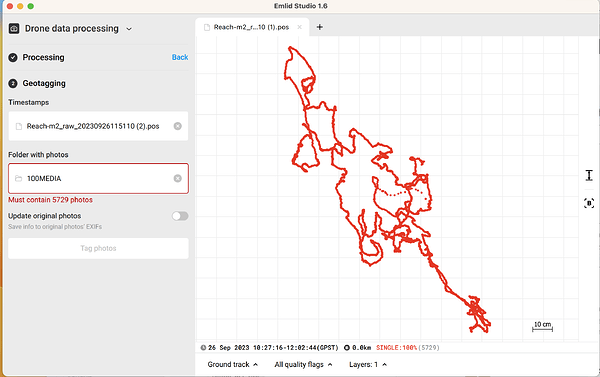 Thanks for your help.
Here is the link with all the data :
https://drive.google.com/drive/folders/1k0Q2ApUyQxhgWc4-pR9du3WHFkN6QaaU?usp=share_link