Hello,
I'm fairly new to this kind of stuff so please bare with me.
I am using the new 'Reach M+' in conjunction with the holybro PX4 flight controller.
The emlid guide to connecting the Reach to a ardu pilot controller such as the PX4 shows a 6p-to-6p cable connecting straight to the serial 4/5 input of the PX4 controller as seen in the image below.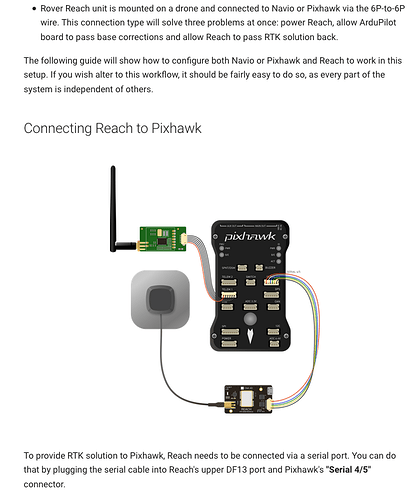 My issue is that the serial cable which came with the Reach unit doesnt have the correct connection on the flight controller end. Additionally the input connection differs between the Reach unit and the PX4 serial 4/5 so i don't think the simple 6p-to-6p serial cable would suffice.
What are the correct cables required to connect the Reach M+ to the PX4?