Hello Emlid Community,
after the last update (2.12) of reach view I'm encountering a serious problem because I can't export the file of my survey. In fact, before this update I was able to export as .csv or Esri Shape my GCPs.
I tried many times but with no success, a dialog box appears saying "your report being exported please wait" but after 1 seconds it disappears and no file is created.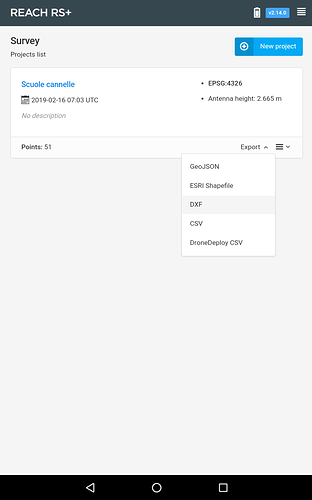 I tried both with my Lenovo tablet TB-8504X (android v. 7.1.1) and with my smartphone samsung galaxy A3 (android v. 8.0.0).
Before this update the Lenovo works great so I suppose that I have to return to the previous version of Reach View app, is it possibile ?
In the meanwhile, do you have some suggestion to download the data of my saved survey from my Rover Unit?
I am also attaching the simple report from my Lenovo (the Full report can't be created so I suppose that this is another bug)
Simple system report

app version: 2.14.0-r0
'wifi_status, interface: wlan0':
- wifi_mode: ap
- access_point:
    band: bg
    channel: 1
    password: null
  ip: 192.168.42.1
  is_added: true
  is_connected: true
  mac_address: 44:2C:05:FE:8A:51
  security: wpa-psk
  ssid: Dan-ROVER:95:4E
  uuid: 1dab3f18-9408-4bd3-9755-4c69e329084d
base mode:
  base coordinates:
    accumulation: '2'
    antenna offset:
      east: '0'
      north: '0'
      up: '0'
    coordinates:
    - '0'
    - '0'
    - '0'
    format: llh
    mode: single-and-hold
  output:
    enabled: true
    format: rtcm3
    path: tcpsvr://:9000#rtcm3
    type: tcpsvr
  rtcm3 messages:
    '1002':
      enabled: true
      frequency: '1'
    '1006':
      enabled: true
      frequency: '0.1'
    '1008':
      enabled: false
      frequency: '1'
    '1010':
      enabled: true
      frequency: '1'
    '1019':
      enabled: false
      frequency: '1'
    '1020':
      enabled: false
      frequency: '1'
    '1097':
      enabled: false
      frequency: '1'
    '1107':
      enabled: false
      frequency: '1'
    '1117':
      enabled: false
      frequency: '1'
    '1127':
      enabled: false
      frequency: '1'
bluetooth:
  discoverable: false
  enabled: false
  pin: '***'
correction input:
  input2:
    enabled: true
    format: rtcm3
    path: lora
    send position to base: 'off'
    type: lora
  input3:
    enabled: false
    format: rtcm3
    path: :9028
    type: tcpsvr
logging:
  base:
    format: RTCM3
    started: true
    version: null
  correction:
    format: RTCM3
    started: true
    version: null
  interval: 24
  overwrite: true
  raw:
    format: UBX
    started: true
    version: null
  solution:
    format: LLH
    started: true
    version: null
lora:
  air rate: '9.11'
  frequency: 868000
  output power: '20'
position output:
  output1:
    enabled: true
    format: nmea
    path: bluetooth
    type: bluetooth
  output2:
    enabled: true
    format: llh
    path: :9001
    type: tcpsvr
  output3:
    enabled: true
    format: llh
    path: :2014
    type: tcpsvr
  output4:
    enabled: true
    format: llh
    path: :2015
    type: tcpsvr
rtk settings:
  elevation mask angle: '15'
  glonass ar mode: 'on'
  gps ar mode: fix-and-hold
  max horizontal acceleration: '6.7'
  max vertical acceleration: '1'
  positioning mode: kinematic
  positioning systems:
    compass: false
    galileo: true
    glonass: true
    gps: true
    qzs: true
    qzss: false
    sbas: true
  snr mask: '35'
  update rate: '1'

Thanks in advance for your support!
Daniele