I'm working on a project that consists of 3-4 small moving robots which need to accurately know their position and also be able to comunicate together.
Since I need cm accuracy, I'm planning to have one Reach m+ on each robot/rover and a base station (also Reach m+ based) located at most 3-4 km from the rovers and always in line-of-sight.
As far as radiolink is concerned, my choice is on Lora both to broadcast the RTK corrections from the base and also to manage the 'inter-robots/rovers comunication.
In order to avoid collisions between the rtk corrections and the other messages (inter robots) circulating on the radio link, I was thinking of using the 1Hz rtk corrections to synchronize the radio network. So basically each robot would have a pre-defined time slot available to talk after each RTK correction broadcast.
Put it in a different way, Robot1 will able to talk after RTKCorrection #n has been broadcasted, Robot2 would be able to talk after RTKCorrection #n+1 has been broadcasted, and so on for Robot3 and Robot 4.
Since Lora datarate is quite limited, I'm trying to understand what's the actual size of the RTCM3 messages so that I can find out the duration of the remaining time slot length for the inter robot comunication.
To do so, I connected my PC to 3DR/sik radio that was receiving RTCM3 messages from a Reach m+ module configured as a base station.
I logged the RTCM3 file that the PC was receiving during 1 minute with the following messages enabled at 1Hz, except for 1006/ARP at 0.5Hz. I picked-up 4 different configurations:
a) 1002, 1006, 1010, 1097 (GPS, ARP, GLO, GAL)
b) 1002, 1006, 1010 (GPS, ARP, GLO)
c) 1002, 1006, 1097 (GPS, ARP, GAL)
d) 1002, 1006 (GPS, ARP)
I repeated the log of each configuration three times and divided the size of the log files by 60 to get an estimation of the number of bits/sec each configuration would require. Here is what I got:
Config a) 2.3 kb/sec
Config b) 1.6 kb/sec
Config c) 1.7 kb/sec
Config d) 1 kb/sec
I was expecting to find values similar to what's in Emlid doc but that's not the case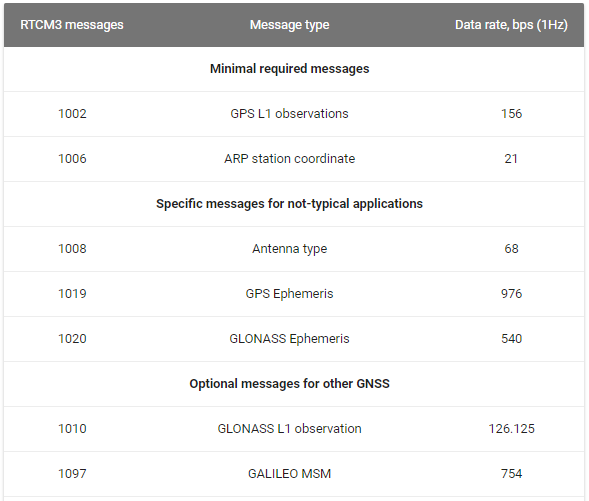 Am I missing something? Why are my values much bigger?
Does the size of the RTCM3 message depends on the satellites that are actually visible?
Any experience with sharing a lora radio link between RTK corrections and other messages?
Thank you!