Hi guys,
I'm trying to set up my raspberry PI following the instructions present in Navio2 documentation.
Here the steps I achieved:
Downloaded and installed succesfully "emlid-raspbian-20200922.img.xz" image
Set up of wifi connection and log in with putty
SSH into raspberry and typed: sudo emlidtool ardupilot
–> Here I selected: vehicle:copter; version:4.0; frame: arducopter; enable on boot and start service.
The problem is that the service does not start (picture below). I also tried to enable manually but the situation did not change.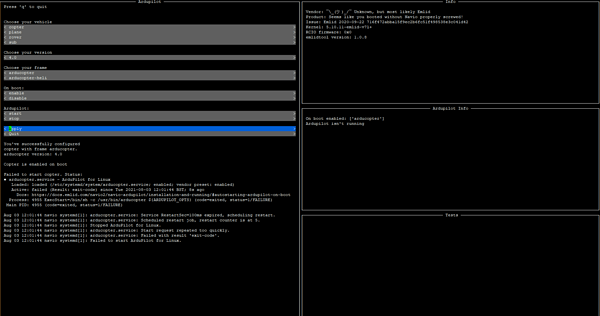 One other important thing is that I'm only working with rasperry PI connected, and NAVIO2 is not connected at all. Could be this the cause of the issue?
I believed that at least the service could be started…
Thanks for the answers,
Marco.