hello - i'm having trouble starting ardupilot out of the box on a Raspberry Pi 3 B+ using the unmodified image downloaded from (http://files.emlid.com/images/emlid-raspbian-20180525.img.xz)
running emlidtool produces the image attached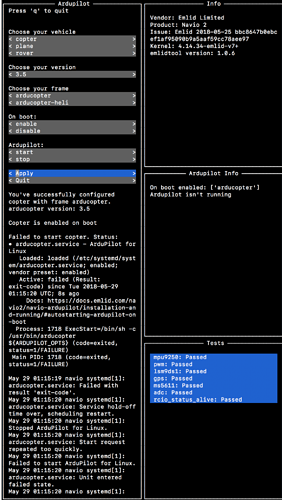 pi@navio:/sys/class/pwm/pwmchip0 $ sudo vcdbg log msg 2>&1 | grep -C5 rcio
002342.648: brfs: File read: /mfs/sd/overlays/spi1-1cs.dtbo
002360.355: Loaded overlay 'spi1-1cs'
002360.372: dtparam: cs0_pin=16
002361.169: dtparam: cs0_spidev=disabled
002438.810: brfs: File read: 1547 bytes
002447.757: brfs: File read: /mfs/sd/overlays/rcio.dtbo
002458.055: Loaded overlay 'rcio'
002481.698: brfs: File read: 431 bytes
002489.694: brfs: File read: /mfs/sd/overlays/navio-rgb.dtbo
002503.977: Loaded overlay 'navio-rgb'
002504.011: dtparam: i2c1=on
002520.777: dtparam: i2c1_baudrate=1000000
pi@navio:/sys/class/pwm/pwmchip0 $ dmesg | grep rcio
[ 3.681794] rcio_core: loading out-of-tree module taints kernel.
[ 3.689926] rcio spi1.0: rcio_status: Firmware CRC: 0x793d141e
[ 3.690730] rcio spi1.0: rcio_status: Could not read board type
[ 3.692025] rcio spi1.0: rcio_status: Could not read git hash
[ 3.694166] rcio spi1.0: rcio_pwm: Advanced frequency configuration is not supported on this firmware
[ 3.716969] rcio spi1.0: rcio_pwm: PWM probe success
[ 3.717873] rcio spi1.0: rcio_gpio: GPIO is not supported on this firmware
[ 133.773844] rcio spi1.0: rcio_pwm: Error in pwm running count
[ 133.942878] rcio spi1.0: rcio_pwm: Error in pwm running count
[ 134.191753] rcio spi1.0: rcio_pwm: Error in pwm running count
[ 134.441950] rcio spi1.0: rcio_pwm: Error in pwm running count
[ 134.692168] rcio spi1.0: rcio_pwm: Error in pwm running count
[ 402.132431] rcio spi1.0: rcio_pwm: Error in pwm running count
[ 402.445422] rcio spi1.0: rcio_pwm: Error in pwm running count
[ 402.695109] rcio spi1.0: rcio_pwm: Error in pwm running count
[ 402.945730] rcio spi1.0: rcio_pwm: Error in pwm running count
[ 403.197859] rcio spi1.0: rcio_pwm: Error in pwm running count
[ 646.843798] rcio spi1.0: rcio_pwm: Error in pwm running count
[ 1399.966341] rcio spi1.0: rcio_status: Firmware CRC: 0x793d141e
[ 1399.967067] rcio spi1.0: rcio_status: Could not read board type
[ 1399.969211] rcio spi1.0: rcio_status: Could not read git hash
[ 1399.970022] rcio spi1.0: rcio_pwm: Advanced frequency configuration is not supported on this firmware
[ 1399.984049] rcio spi1.0: rcio_pwm: PWM probe success
[ 1399.984785] rcio spi1.0: rcio_gpio: GPIO is not supported on this firmware
[ 1648.090483] rcio spi1.0: rcio_pwm: Error in pwm running count
[ 1648.447514] rcio spi1.0: rcio_pwm: Error in pwm running count
[ 1648.698168] rcio spi1.0: rcio_pwm: Error in pwm running count
[ 1648.946945] rcio spi1.0: rcio_pwm: Error in pwm running count
[ 1649.198454] rcio spi1.0: rcio_pwm: Error in pwm running count
pi@navio:/sys/class/pwm/pwmchip0 $
@navio:/sys/class/pwm/pwmchip0 $ ls /boot/overlays/rcio*
/boot/overlays/rcio.dtbo
pi@navio:/sys/class/pwm/pwmchip0 $
pi@navio:/sys/class/pwm/pwmchip0 $ lsmod
Module Size Used by
rcio_spi 16384 0
rcio_core 36864 1 rcio_spi
binfmt_misc 20480 1
spidev 16384 0
brcmfmac 282624 0
brcmutil 20480 1 brcmfmac
cfg80211 614400 1 brcmfmac
rfkill 28672 4 cfg80211
i2c_bcm2835 16384 0
spi_bcm2835aux 16384 0
spi_bcm2835 16384 0
bcm2835_gpiomem 16384 0
uio_pdrv_genirq 16384 0
fixed 16384 0
uio 20480 1 uio_pdrv_genirq
i2c_dev 16384 0
ip_tables 24576 0
x_tables 32768 1 ip_tables
ipv6 446464 32
pi@navio:/sys/class/pwm/pwmchip0 $
pi@navio:/sys/class/pwm/pwmchip0 $ uname -a
Linux navio 4.14.34-emlid-v7+ #1 SMP PREEMPT Fri May 25 15:53:43 MSK 2018 armv7l GNU/Linux
pi@navio:/sys/class/pwm/pwmchip0 $ dmesg
[ 0.000000] Booting Linux on physical CPU 0x0
[ 0.000000] Linux version 4.14.34-emlid-v7+ (alexey@kernelcruncher) (gcc version 4.8.3 20140106 (prerelease) (crosstool-NG linaro-1.13.1-4.8-2014.01 - Linaro GCC 2013.11)) #1 SMP PREEMPT Fri May 25 15:53:43 MSK 2018
[ 0.000000] CPU: ARMv7 Processor [410fd034] revision 4 (ARMv7), cr=10c5383d
[ 0.000000] CPU: div instructions available: patching division code
[ 0.000000] CPU: PIPT / VIPT nonaliasing data cache, VIPT aliasing instruction cache
[ 0.000000] OF: fdt: Machine model: Raspberry Pi 3 Model B Rev 1.2
[ 0.000000] Memory policy: Data cache writealloc
[ 0.000000] cma: Reserved 8 MiB at 0x37800000
[ 0.000000] On node 0 totalpages: 229376
[ 0.000000] free_area_init_node: node 0, pgdat 80c870c0, node_mem_map b7016000
[ 0.000000] Normal zone: 2016 pages used for memmap
[ 0.000000] Normal zone: 0 pages reserved
[ 0.000000] Normal zone: 229376 pages, LIFO batch:31
[ 0.000000] random: fast init done
[ 0.000000] percpu: Embedded 16 pages/cpu @b6fc2000 s36864 r8192 d20480 u65536
[ 0.000000] pcpu-alloc: s36864 r8192 d20480 u65536 alloc=16*4096
[ 0.000000] pcpu-alloc: [0] 0 [0] 1 [0] 2 [0] 3
[ 0.000000] Built 1 zonelists, mobility grouping on. Total pages: 227360
[ 0.000000] Kernel command line: 8250.nr_uarts=1 bcm2708_fb.fbwidth=1824 bcm2708_fb.fbheight=984 bcm2708_fb.fbswap=1 vc_mem.mem_base=0x3ec00000 vc_mem.mem_size=0x40000000 dwc_otg.lpm_enable=0 console=tty1 root=/dev/mmcblk0p2 rootfstype=ext4 elevator=deadline fsck.repair=yes rootwait
[ 0.000000] PID hash table entries: 4096 (order: 2, 16384 bytes)
[ 0.000000] Dentry cache hash table entries: 131072 (order: 7, 524288 bytes)
[ 0.000000] Inode-cache hash table entries: 65536 (order: 6, 262144 bytes)
[ 0.000000] Memory: 887408K/917504K available (7168K kernel code, 637K rwdata, 2228K rodata, 1024K init, 706K bss, 21904K reserved, 8192K cma-reserved)
[ 0.000000] Virtual kernel memory layout:
vector : 0xffff0000 - 0xffff1000 ( 4 kB)
fixmap : 0xffc00000 - 0xfff00000 (3072 kB)
vmalloc : 0xb8800000 - 0xff800000 (1136 MB)
lowmem : 0x80000000 - 0xb8000000 ( 896 MB)
modules : 0x7f000000 - 0x80000000 ( 16 MB)
.text : 0x80008000 - 0x80800000 (8160 kB)
.init : 0x80b00000 - 0x80c00000 (1024 kB)
.data : 0x80c00000 - 0x80c9f4a0 ( 638 kB)
.bss : 0x80ca7024 - 0x80d579f4 ( 707 kB)
[ 0.000000] SLUB: HWalign=64, Order=0-3, MinObjects=0, CPUs=4, Nodes=1
[ 0.000000] ftrace: allocating 24653 entries in 73 pages
[ 0.000000] Preemptible hierarchical RCU implementation.
[ 0.000000] Tasks RCU enabled.
[ 0.000000] NR_IRQS: 16, nr_irqs: 16, preallocated irqs: 16
[ 0.000000] arch_timer: cp15 timer(s) running at 19.20MHz (phys).
[ 0.000000] clocksource: arch_sys_counter: mask: 0xffffffffffffff max_cycles: 0x46d987e47, max_idle_ns: 440795202767 ns
[ 0.000007] sched_clock: 56 bits at 19MHz, resolution 52ns, wraps every 4398046511078ns
[ 0.000023] Switching to timer-based delay loop, resolution 52ns
[ 0.000270] Console: colour dummy device 80x30
[ 0.001121] console [tty1] enabled
[ 0.001166] Calibrating delay loop (skipped), value calculated using timer frequency… 38.40 BogoMIPS (lpj=192000)
[ 0.001220] pid_max: default: 32768 minimum: 301
[ 0.001550] Mount-cache hash table entries: 2048 (order: 1, 8192 bytes)
[ 0.001592] Mountpoint-cache hash table entries: 2048 (order: 1, 8192 bytes)
[ 0.002593] Disabling memory control group subsystem
[ 0.002695] CPU: Testing write buffer coherency: ok
[ 0.003164] CPU0: thread -1, cpu 0, socket 0, mpidr 80000000
[ 0.040024] Setting up static identity map for 0x100000 - 0x10003c
[ 0.060015] Hierarchical SRCU implementation.
[ 0.100089] smp: Bringing up secondary CPUs …
[ 0.170626] CPU1: thread -1, cpu 1, socket 0, mpidr 80000001
[ 0.240684] CPU2: thread -1, cpu 2, socket 0, mpidr 80000002
[ 0.310808] CPU3: thread -1, cpu 3, socket 0, mpidr 80000003
[ 0.310954] smp: Brought up 1 node, 4 CPUs
[ 0.311054] SMP: Total of 4 processors activated (153.60 BogoMIPS).
[ 0.311085] CPU: All CPU(s) started in HYP mode.
[ 0.311110] CPU: Virtualization extensions available.
[ 0.311979] devtmpfs: initialized
[ 0.324125] VFP support v0.3: implementor 41 architecture 3 part 40 variant 3 rev 4
[ 0.324422] clocksource: jiffies: mask: 0xffffffff max_cycles: 0xffffffff, max_idle_ns: 19112604462750000 ns
[ 0.324480] futex hash table entries: 1024 (order: 4, 65536 bytes)
[ 0.325096] pinctrl core: initialized pinctrl subsystem
[ 0.325975] NET: Registered protocol family 16
[ 0.342722] DMA: preallocated 1024 KiB pool for atomic coherent allocations
[ 0.347889] hw-breakpoint: found 5 (+1 reserved) breakpoint and 4 watchpoint registers.
[ 0.347933] hw-breakpoint: maximum watchpoint size is 8 bytes.
[ 0.348137] Serial: AMBA PL011 UART driver
[ 0.350152] bcm2835-mbox 3f00b880.mailbox: mailbox enabled
[ 0.350764] uart-pl011 3f201000.serial: could not find pctldev for node /soc/gpio@7e200000/uart0_pins, deferring probe
[ 0.385879] bcm2835-dma 3f007000.dma: DMA legacy API manager at b8813000, dmachans=0x1
[ 0.387516] SCSI subsystem initialized
[ 0.387790] usbcore: registered new interface driver usbfs
[ 0.387873] usbcore: registered new interface driver hub
[ 0.387998] usbcore: registered new device driver usb
[ 0.390694] raspberrypi-firmware soc:firmware: Attached to firmware from 2018-04-16 18:21
[ 0.392077] clocksource: Switched to clocksource arch_sys_counter
[ 0.507609] VFS: Disk quotas dquot_6.6.0
[ 0.507745] VFS: Dquot-cache hash table entries: 1024 (order 0, 4096 bytes)
[ 0.508009] FS-Cache: Loaded
[ 0.508232] CacheFiles: Loaded
[ 0.517500] NET: Registered protocol family 2
[ 0.518399] TCP established hash table entries: 8192 (order: 3, 32768 bytes)
[ 0.518539] TCP bind hash table entries: 8192 (order: 4, 65536 bytes)
[ 0.518751] TCP: Hash tables configured (established 8192 bind 8192)
[ 0.518916] UDP hash table entries: 512 (order: 2, 16384 bytes)
[ 0.518987] UDP-Lite hash table entries: 512 (order: 2, 16384 bytes)
[ 0.519271] NET: Registered protocol family 1
[ 0.519772] RPC: Registered named UNIX socket transport module.
[ 0.519805] RPC: Registered udp transport module.
[ 0.519831] RPC: Registered tcp transport module.
[ 0.519857] RPC: Registered tcp NFSv4.1 backchannel transport module.
[ 0.521418] hw perfevents: enabled with armv7_cortex_a7 PMU driver, 7 counters available
[ 0.523241] workingset: timestamp_bits=14 max_order=18 bucket_order=4
[ 0.532052] FS-Cache: Netfs 'nfs' registered for caching
[ 0.532774] NFS: Registering the id_resolver key type
[ 0.532828] Key type id_resolver registered
[ 0.532854] Key type id_legacy registered
[ 0.534912] Block layer SCSI generic (bsg) driver version 0.4 loaded (major 251)
[ 0.535086] io scheduler noop registered
[ 0.535115] io scheduler deadline registered (default)
[ 0.535436] io scheduler cfq registered
[ 0.535464] io scheduler mq-deadline registered
[ 0.535492] io scheduler kyber registered
[ 0.538738] BCM2708FB: allocated DMA memory f7910000
[ 0.538793] BCM2708FB: allocated DMA channel 0 @ b8813000
[ 0.588856] Console: switching to colour frame buffer device 228x61
[ 0.618646] Serial: 8250/16550 driver, 1 ports, IRQ sharing enabled
[ 0.620259] bcm2835-rng 3f104000.rng: hwrng registered
[ 0.620578] vc-mem: phys_addr:0x00000000 mem_base=0x3ec00000 mem_size:0x40000000(1024 MiB)
[ 0.621350] vc-sm: Videocore shared memory driver
[ 0.632474] brd: module loaded
[ 0.643138] loop: module loaded
[ 0.643280] Loading iSCSI transport class v2.0-870.
[ 0.644200] libphy: Fixed MDIO Bus: probed
[ 0.644435] usbcore: registered new interface driver lan78xx
[ 0.644667] usbcore: registered new interface driver smsc95xx
[ 0.644856] dwc_otg: version 3.00a 10-AUG-2012 (platform bus)
[ 0.873187] Core Release: 2.80a
[ 0.873302] Setting default values for core params
[ 0.873484] Finished setting default values for core params
[ 1.073916] Using Buffer DMA mode
[ 1.074029] Periodic Transfer Interrupt Enhancement - disabled
[ 1.074206] Multiprocessor Interrupt Enhancement - disabled
[ 1.074379] OTG VER PARAM: 0, OTG VER FLAG: 0
[ 1.074519] Dedicated Tx FIFOs mode
[ 1.074978] WARN::dwc_otg_hcd_init:1046: FIQ DMA bounce buffers: virt = 0xb7904000 dma = 0xf7904000 len=9024
[ 1.075291] FIQ FSM acceleration enabled for :
Non-periodic Split Transactions
Periodic Split Transactions
High-Speed Isochronous Endpoints
Interrupt/Control Split Transaction hack enabled
[ 1.075923] dwc_otg: Microframe scheduler enabled
[ 1.075985] WARN::hcd_init_fiq:459: FIQ on core 1 at 0x805d8e80
[ 1.082686] WARN::hcd_init_fiq:460: FIQ ASM at 0x805d91d4 length 36
[ 1.089331] WARN::hcd_init_fiq:486: MPHI regs_base at 0xb887e000
[ 1.096071] dwc_otg 3f980000.usb: DWC OTG Controller
[ 1.102719] dwc_otg 3f980000.usb: new USB bus registered, assigned bus number 1
[ 1.109394] dwc_otg 3f980000.usb: irq 62, io mem 0x00000000
[ 1.116084] Init: Port Power? op_state=1
[ 1.122659] Init: Power Port (0)
[ 1.129388] usb usb1: New USB device found, idVendor=1d6b, idProduct=0002
[ 1.135955] usb usb1: New USB device strings: Mfr=3, Product=2, SerialNumber=1
[ 1.142564] usb usb1: Product: DWC OTG Controller
[ 1.149146] usb usb1: Manufacturer: Linux 4.14.34-emlid-v7+ dwc_otg_hcd
[ 1.155856] usb usb1: SerialNumber: 3f980000.usb
[ 1.163297] hub 1-0:1.0: USB hub found
[ 1.169900] hub 1-0:1.0: 1 port detected
[ 1.177053] dwc_otg: FIQ enabled
[ 1.177060] dwc_otg: NAK holdoff enabled
[ 1.177066] dwc_otg: FIQ split-transaction FSM enabled
[ 1.177081] Module dwc_common_port init
[ 1.177351] usbcore: registered new interface driver usb-storage
[ 1.184144] mousedev: PS/2 mouse device common for all mice
[ 1.191151] bcm2835-wdt 3f100000.watchdog: Broadcom BCM2835 watchdog timer
[ 1.198051] bcm2835-cpufreq: min=600000 max=1200000
[ 1.206412] sdhci: Secure Digital Host Controller Interface driver
[ 1.209898] sdhci: Copyright© Pierre Ossman
[ 1.213559] mmc-bcm2835 3f300000.mmc: could not get clk, deferring probe
[ 1.217244] sdhost-bcm2835 3f202000.mmc: could not get clk, deferring probe
[ 1.220659] sdhci-pltfm: SDHCI platform and OF driver helper
[ 1.225482] ledtrig-cpu: registered to indicate activity on CPUs
[ 1.229136] hidraw: raw HID events driver © Jiri Kosina
[ 1.232834] usbcore: registered new interface driver usbhid
[ 1.236325] usbhid: USB HID core driver
[ 1.240252] vchiq: vchiq_init_state: slot_zero = b7980000, is_master = 0
[ 1.244979] [vc_sm_connected_init]: start
[ 1.252800] [vc_sm_connected_init]: end - returning 0
[ 1.256696] Initializing XFRM netlink socket
[ 1.260281] NET: Registered protocol family 17
[ 1.263883] Key type dns_resolver registered
[ 1.267544] Registering SWP/SWPB emulation handler
[ 1.271252] registered taskstats version 1
[ 1.278710] uart-pl011 3f201000.serial: cts_event_workaround enabled
[ 1.282380] 3f201000.serial: ttyAMA0 at MMIO 0x3f201000 (irq = 87, base_baud = 0) is a PL011 rev2
[ 1.286862] mmc-bcm2835 3f300000.mmc: mmc_debug:0 mmc_debug2:0
[ 1.290492] mmc-bcm2835 3f300000.mmc: Forcing PIO mode
[ 1.352463] sdhost: log_buf @ b7907000 (f7907000)
[ 1.373294] mmc1: queuing unknown CIS tuple 0x80 (2 bytes)
[ 1.378441] mmc1: queuing unknown CIS tuple 0x80 (3 bytes)
[ 1.383538] mmc1: queuing unknown CIS tuple 0x80 (3 bytes)
[ 1.393496] mmc1: queuing unknown CIS tuple 0x80 (7 bytes)
[ 1.402168] Indeed it is in host mode hprt0 = 00021501
[ 1.452108] mmc0: sdhost-bcm2835 loaded - DMA enabled (>1)
[ 1.456329] of_cfs_init
[ 1.459838] of_cfs_init: OK
[ 1.463666] Waiting for root device /dev/mmcblk0p2…
[ 1.526280] mmc1: new high speed SDIO card at address 0001
[ 1.539291] mmc0: host does not support reading read-only switch, assuming write-enable
[ 1.545457] mmc0: new high speed SDHC card at address 59b4
[ 1.549197] mmcblk0: mmc0:59b4 USD00 14.8 GiB
[ 1.553922] mmcblk0: p1 p2
[ 1.582490] EXT4-fs (mmcblk0p2): mounted filesystem with ordered data mode. Opts: (null)
[ 1.585996] VFS: Mounted root (ext4 filesystem) readonly on device 179:2.
[ 1.590112] devtmpfs: mounted
[ 1.595837] Freeing unused kernel memory: 1024K
[ 1.612090] usb 1-1: new high-speed USB device number 2 using dwc_otg
[ 1.615818] Indeed it is in host mode hprt0 = 00001101
[ 1.852268] usb 1-1: New USB device found, idVendor=0424, idProduct=9514
[ 1.855851] usb 1-1: New USB device strings: Mfr=0, Product=0, SerialNumber=0
[ 1.859980] hub 1-1:1.0: USB hub found
[ 1.863739] hub 1-1:1.0: 5 ports detected
[ 1.995110] systemd[1]: System time before build time, advancing clock.
[ 2.085282] NET: Registered protocol family 10
[ 2.089543] Segment Routing with IPv6
[ 2.107547] ip_tables: © 2000-2006 Netfilter Core Team
[ 2.129898] systemd[1]: systemd 232 running in system mode. (+PAM +AUDIT +SELINUX +IMA +APPARMOR +SMACK +SYSVINIT +UTMP +LIBCRYPTSETUP +GCRYPT +GNUTLS +ACL +XZ +LZ4 +SECCOMP +BLKID +ELFUTILS +KMOD +IDN)
[ 2.134365] systemd[1]: Detected architecture arm.
[ 2.158190] systemd[1]: Set hostname to .
[ 2.170762] systemd[1]: Initializing machine ID from random generator.
[ 2.174786] systemd[1]: Installed transient /etc/machine-id file.
[ 2.182100] usb 1-1.1: new high-speed USB device number 3 using dwc_otg
[ 2.312352] usb 1-1.1: New USB device found, idVendor=0424, idProduct=ec00
[ 2.316292] usb 1-1.1: New USB device strings: Mfr=0, Product=0, SerialNumber=0
[ 2.322551] smsc95xx v1.0.6
[ 2.414425] smsc95xx 1-1.1:1.0 eth0: register 'smsc95xx' at usb-3f980000.usb-1.1, smsc95xx USB 2.0 Ethernet, b8:27:eb:c6:a5:d8
[ 2.525907] systemd[1]: Listening on Syslog Socket.
[ 2.534514] systemd[1]: Listening on Journal Socket.
[ 2.542980] systemd[1]: Set up automount Arbitrary Executable File Formats File System Automount Point.
[ 2.551531] systemd[1]: Listening on udev Kernel Socket.
[ 2.559920] systemd[1]: Reached target Swap.
[ 2.743121] i2c /dev entries driver
[ 3.072781] EXT4-fs (mmcblk0p2): re-mounted. Opts: (null)
[ 3.150248] systemd-journald[84]: Received request to flush runtime journal from PID 1
[ 3.366401] gpiomem-bcm2835 3f200000.gpiomem: Initialised: Registers at 0x3f200000
[ 3.624203] brcmfmac: F1 signature read @0x18000000=0x1541a9a6
[ 3.630693] brcmfmac: brcmf_fw_map_chip_to_name: using brcm/brcmfmac43430-sdio.bin for chip 0x00a9a6(43430) rev 0x000001
[ 3.630869] usbcore: registered new interface driver brcmfmac
[ 3.680033] smsc95xx 1-1.1:1.0 enxb827ebc6a5d8: renamed from eth0
[ 3.681794] rcio_core: loading out-of-tree module taints kernel.
[ 3.689926] rcio spi1.0: rcio_status: Firmware CRC: 0x793d141e
[ 3.690730] rcio spi1.0: rcio_status: Could not read board type
[ 3.692025] rcio spi1.0: rcio_status: Could not read git hash
[ 3.694166] rcio spi1.0: rcio_pwm: Advanced frequency configuration is not supported on this firmware
[ 3.701319] RC config 0 set successfully
[ 3.702682] RC config 1 set successfully
[ 3.703654] RC config 2 set successfully
[ 3.704651] RC config 3 set successfully
[ 3.705651] RC config 4 set successfully
[ 3.706647] RC config 5 set successfully
[ 3.707656] RC config 6 set successfully
[ 3.708657] RC config 7 set successfully
[ 3.709651] RC config 8 set successfully
[ 3.712189] RC config 9 set successfully
[ 3.713063] RC config 10 set successfully
[ 3.713833] RC config 11 set successfully
[ 3.714587] RC config 12 set successfully
[ 3.715436] RC config 13 set successfully
[ 3.716232] RC config 14 set successfully
[ 3.716957] RC config 15 set successfully
[ 3.716969] rcio spi1.0: rcio_pwm: PWM probe success
[ 3.717873] rcio spi1.0: rcio_gpio: GPIO is not supported on this firmware
[ 3.792445] random: crng init done
[ 3.845583] brcmfmac: brcmf_c_preinit_dcmds: Firmware version = wl0: Oct 23 2017 03:55:53 version 7.45.98.38 (r674442 CY) FWID 01-e58d219f
[ 3.846240] brcmfmac: brcmf_c_preinit_dcmds: CLM version = API: 12.2 Data: 7.11.15 Compiler: 1.24.2 ClmImport: 1.24.1 Creation: 2014-05-26 10:53:55 Inc Data: 9.10.39 Inc Compiler: 1.29.4 Inc ClmImport: 1.36.3 Creation: 2017-10-23 03:47:14
[ 4.436885] IPv6: ADDRCONF(NETDEV_UP): wlan0: link is not ready
[ 4.436894] brcmfmac: power management disabled
[ 4.844441] smsc95xx 1-1.1:1.0 enxb827ebc6a5d8: hardware isn't capable of remote wakeup
[ 4.844636] IPv6: ADDRCONF(NETDEV_UP): enxb827ebc6a5d8: link is not ready
[ 5.046851] Adding 102396k swap on /var/swap. Priority:-2 extents:1 across:102396k SSFS
[ 7.398481] IPv6: ADDRCONF(NETDEV_CHANGE): enxb827ebc6a5d8: link becomes ready
[ 7.399187] smsc95xx 1-1.1:1.0 enxb827ebc6a5d8: link up, 100Mbps, full-duplex, lpa 0xCDE1
[ 9.706307] systemd[1]: apt-daily.timer: Adding 31min 17.001187s random time.
[ 9.707322] systemd[1]: apt-daily-upgrade.timer: Adding 25min 12.527453s random time.
[ 10.046973] systemd[1]: apt-daily.timer: Adding 6h 55min 27.153938s random time.
[ 10.047983] systemd[1]: apt-daily-upgrade.timer: Adding 58min 16.413243s random time.
[ 133.572657] systemd[1]: apt-daily.timer: Adding 8h 38min 4.727861s random time.
[ 133.574131] systemd[1]: apt-daily-upgrade.timer: Adding 29min 9.919078s random time.
[ 133.773844] rcio spi1.0: rcio_pwm: Error in pwm running count
[ 133.942878] rcio spi1.0: rcio_pwm: Error in pwm running count
[ 134.191753] rcio spi1.0: rcio_pwm: Error in pwm running count
[ 134.441950] rcio spi1.0: rcio_pwm: Error in pwm running count
[ 134.692168] rcio spi1.0: rcio_pwm: Error in pwm running count
[ 402.042303] systemd[1]: apt-daily.timer: Adding 4h 19min 952.210ms random time.
[ 402.043663] systemd[1]: apt-daily-upgrade.timer: Adding 14min 12.181120s random time.
[ 402.132431] rcio spi1.0: rcio_pwm: Error in pwm running count
[ 402.445422] rcio spi1.0: rcio_pwm: Error in pwm running count
[ 402.695109] rcio spi1.0: rcio_pwm: Error in pwm running count
[ 402.945730] rcio spi1.0: rcio_pwm: Error in pwm running count
[ 403.197859] rcio spi1.0: rcio_pwm: Error in pwm running count
[ 646.843798] rcio spi1.0: rcio_pwm: Error in pwm running count
[ 1399.966341] rcio spi1.0: rcio_status: Firmware CRC: 0x793d141e
[ 1399.967067] rcio spi1.0: rcio_status: Could not read board type
[ 1399.969211] rcio spi1.0: rcio_status: Could not read git hash
[ 1399.970022] rcio spi1.0: rcio_pwm: Advanced frequency configuration is not supported on this firmware
[ 1399.974049] RC config 0 set successfully
[ 1399.974714] RC config 1 set successfully
[ 1399.975379] RC config 2 set successfully
[ 1399.976041] RC config 3 set successfully
[ 1399.976702] RC config 4 set successfully
[ 1399.977397] RC config 5 set successfully
[ 1399.978063] RC config 6 set successfully
[ 1399.978725] RC config 7 set successfully
[ 1399.979387] RC config 8 set successfully
[ 1399.980052] RC config 9 set successfully
[ 1399.980712] RC config 10 set successfully
[ 1399.981377] RC config 11 set successfully
[ 1399.982054] RC config 12 set successfully
[ 1399.982715] RC config 13 set successfully
[ 1399.983378] RC config 14 set successfully
[ 1399.984039] RC config 15 set successfully
[ 1399.984049] rcio spi1.0: rcio_pwm: PWM probe success
[ 1399.984785] rcio spi1.0: rcio_gpio: GPIO is not supported on this firmware
[ 1579.136874] Under-voltage detected! (0x00050005)
[ 1591.616838] Voltage normalised (0x00000000)
[ 1648.002368] systemd[1]: apt-daily.timer: Adding 5min 9.266527s random time.
[ 1648.003654] systemd[1]: apt-daily-upgrade.timer: Adding 28min 57.396207s random time.
[ 1648.090483] rcio spi1.0: rcio_pwm: Error in pwm running count
[ 1648.447514] rcio spi1.0: rcio_pwm: Error in pwm running count
[ 1648.698168] rcio spi1.0: rcio_pwm: Error in pwm running count
[ 1648.946945] rcio spi1.0: rcio_pwm: Error in pwm running count
[ 1649.198454] rcio spi1.0: rcio_pwm: Error in pwm running count
pi@navio:/sys/class/pwm/pwmchip0 $
note: the voltage warning in dmesg occurred when i pressed on the header to make sure the hat was screwed on tight, which it is.
this is actually my second attempt at booting from a downloaded/flashed image. on my first attempt the same sequence occurred (same image!) and i installed some prerequisites, downloaded the examples and was able to get output what looked like live readings from the gps (python an d c++) the baro sensor, and multicolors from the led, although the 3d imu tool does not move when the pi is moved around.
when there is no sd card in the pi and power is applied the green led lights. currently after having run the emlid tool and failed to boot arducopter there is no green light.
please advise