Hello:
This may be a sily question. I just received my Reach units a few days ago, and found the setting up procedures for Rover as described in docs of Quickstart (for 2.2.6) and ReachView do not match ReachView 2.6.0, which I got when setting up Base unit.
When I finished setting up Base and started setting up Rover and navigated to "Correction input" tab, the page differs from that described in Quickstart. So I don't know how to do the following steps:
Choose TCP correction mode. (the bar to choose Serial, NTRIP or TCP is not there)
Choose Client in Role field. (no Role field)
Add base IP in Address field. (no Address field)
Add base correction port in Port field. Default one is 9000. (no Port field)
Choose correction input Format. Default one is RTCM3. (no Format field)
The page I got is like this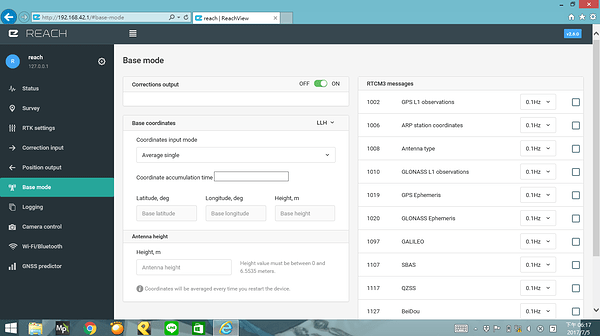 Shall I look somewhere else for updated setting-up procedures? Thanks in advance for your help.