Hello, i think i have the same problem, false fixed. I measured RTK with surv CE 6 and i have differences of more than 1m. The firmware is also 2.20.8.
Can you provide the raw-logs?
Raw-logs received via PM.
@SAM88
You have a lot of cycle-slips and lots of poor SNR in your files.
It does seem to postprocess ok though, maybe you want to do that?
But to get really good data, you will need to improve your SNR by giving your receiver a less obstructed environment and/or adjust your SNR mask/angle cutoff
Overlayed into Google Earth, it looks like this (green fixed, yellow float):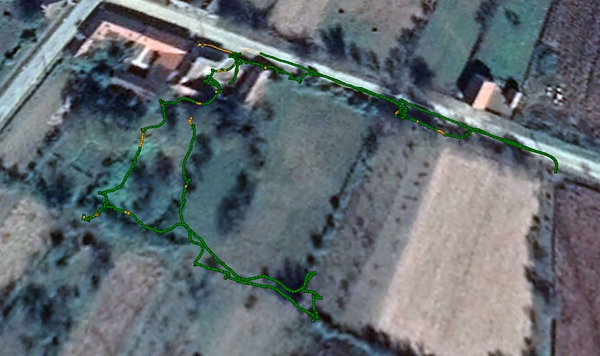 First of all thank you. But why in surv ce it showed me fixed? I will try to adjust SNR mask.
There is a small risk of false fixes in RTK under difficult conditions.
In your environment I would do post-processing instead.
And also, enable Beidou to give you a few more sats to work with.
One more thing, looking at your NTRIP data, you get corrections from GPS and GLO. If you find another provider that can also provide GAL and BEI, you will get a more solid fix.
Or, even better, get your own RS2 base!
The default mode is 15 deg / 35 snr is best for 100% open sky.
Another mode is 13 deg / 36 snr, some said it works much better having an estimated 70% open sky.
If snr mask is cutoff or is set to 0 and Elevation mask angle with 15 deg what are the results?
Yes i know, i will find another provider that offers GAL an BEI, maybe in the future another receiver.