Error : No solution found
We are using wingtra drone with sptentrio ppk module
I think you missed this part of the wizprod's question:
Not much information available on it, it seems, and the things I can find are in Spanish, which isn't my strong side, to put it mildly


I think you will need to contact the makers of Wingtrahub instead, and provide them with the data.
Thanks for link, however, the software doesn't seem to work without this step, which I cannot do:
Step 4: Insert one-time license activation USB stick and PPK license dongle
Can you process your RS2 data in Wingtra if you make it L1 only ? Maybe it doesn't like the L2c signal that the RS2 is receiving.
I get error message: No solution found
Yep, but that can be a lot of different things, sadly… That error is very generic.
Did you try my suggestion above? I know it might not solve your issue, but it will give us an indication of where the issue is.
Siim,
I'd recommend checking with Wingtra support on your issue. There's not much we can do in this case because error message doesn't explain much.
Yes, i did, still same error occurs
What does their Support say?
No solution so far, they are trying to check their PPK provider
Do you know what is new in reachview 20.2.7?
Hotfix for the broken survey tool.
Hi @siim,
No solution so far, they are trying to check their PPK provider
Do you have any news?
Hello gleb,
Currently the issue is
Furthermore, we discovered that the timestamps are not integer multiples of 0.1 seconds. This is the reason why WingtraHub software cannot process this RINEX file.
To have a better overview check out the attached screenshot.
Instead of 56.000 and 56.100 time stamps are logged as 56.003 and 56.103. This is most likely caused by receiver software.
Is this something that can be fixed?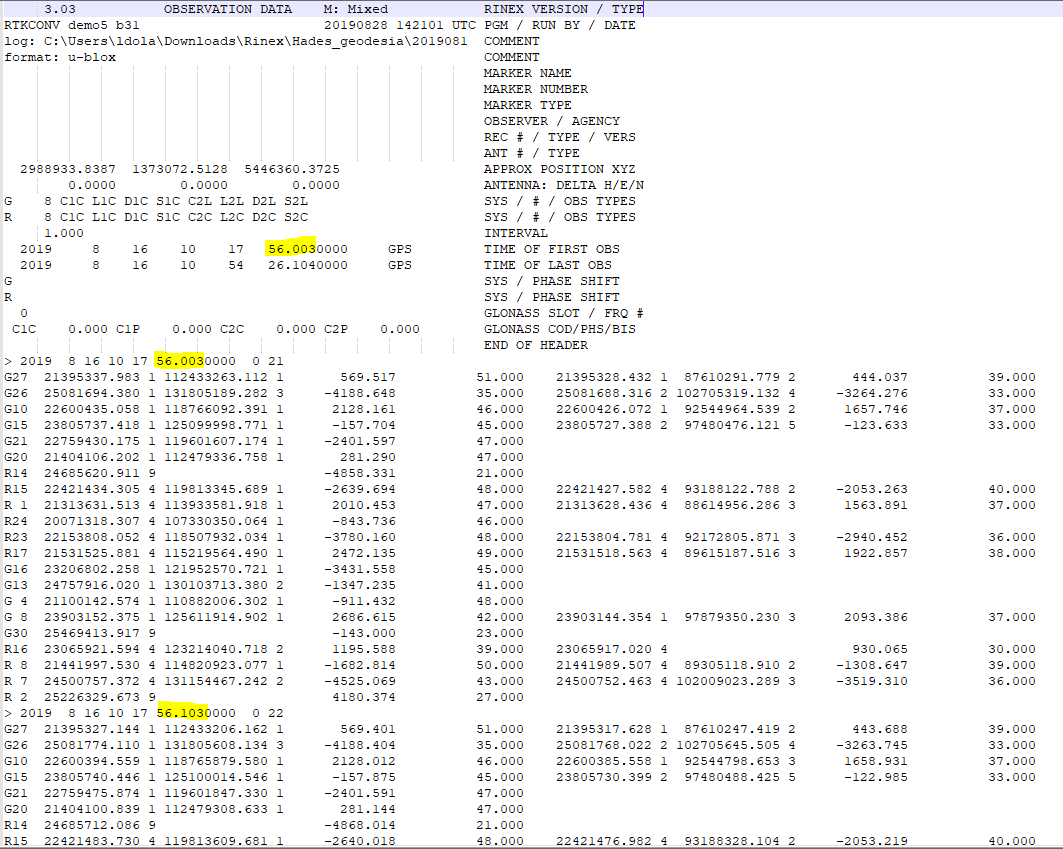 Hi @siim,
I'm afraid it is impossible to tune the time intervals of RINEX files automatically. Usually, PPP services and PPK software work fine with RINEX data from Reach.